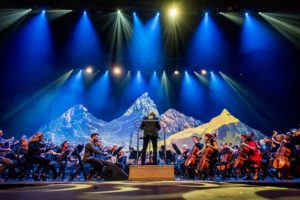 Congratulations to Bothy Culture and Beyond who have been nominated in Event of the Year sponsored by VisitScotland in the MG ALBA Scots Trad Music Awards 2018. Vote now!
We asked Lesley Shaw of Bothy Culture and Beyond the following questions.
Tell us about yourself
The Grit Orchestra was founded in 2015 by Greg Lawson and Donald Shaw for the Celtic Connections festival in memory of the late Martyn Bennett. Following performances at WOMAD and EIF, the Orchestra performed Martyn's Bothy Culture at Scotland's largest venue, the SSE Hydro incorporating All or Nothing Aerial Dance and trials cyclists Danny MacAskill and Ali Clarkson.
Why are you involved in Scottish music?
Scotland has one of the richest and most varied musical heritages of any in the world. It is a heritage which transcends customary categorisations of musical genres.
The founding vision is to bring, through a mix of specially commissioned new works, events and recordings, awareness and enjoyment of this music to the widest possible global constituency which will reflect Scotland's rich and varied cultural identity.
Any particular career highlights?
Following its unforgettable debut at the opening concert of Celtic Connections 2015, the ground-breaking GRIT Orchestra went on to give memorable performances of Martyn Bennett's final album GRIT at the Edinburgh International Festival and WOMAD. They then performed Lawson's interpretation of Bothy Culture at Glasgow's largest venue, The SSE Hydro, as part of Celtic Connections 25th Anniversary Festival in January 2018 and the 2018 Edinburgh International Festival in August. Bennett's music, a virtuoso fusion of Celtic, Scandinavian and Islamic traditions with techno, breakbeat and hip-hop, has been orchestrated by violinist Greg Lawson, who also conducts the performance. Comprising around 80 leading folk, jazz and classical musicians, the GRIT Orchestra is a truly unique ensemble, and a thrilling embodiment of Scotland's contemporary musical landscape, the richly hybrid terrain which Bennett so brilliantly mapped and celebrated.
"It's a stroke of deadpan brilliance, spoken word stripped back to a single redolent syllable."
The Guardian
"The festival has surpassed itself with its most ambitious, theatrical and slightly bonkers event to date as the orchestra reconvened under the baton of the irrepressible Greg Lawson to perform an epic arrangement of another Bennett album, Bothy Culture."
The Scotsman
"Spectacular sound, vision, energy, bike + aerial at the #GritOrchestra concert @ccfest performing Martyn Bennett's Bothy Culture"
Fiona Hyslop, Minister for Culture
What are your plans for the future?
We hope to commission composers to write for the orchestra, combined with an outreach educational programme for the young, both nationally and internationally – to be led by Greg and members of the Orchestra. The ambition of this is to create an understanding of the universal experience and all forms of music.
Read more about Bothy Culture and Beyond
http://www.celticconnections.com
Facebook: http://www.facebook.com/celticconnections
Twitter: http://www.twitter.com/ccfest
If you wish to attend the final ceremony, tickets are available to buy via: https://www.horsecross.co.uk/whats-on/the-mg-alba-scots-trad-music-awards-35002 For box office call 01738 621031 or email box@horsecross.co.uk. Bands performing on Saturday 1st December include includes Croft No Five, Mànran, Karine Polwart Trio, Hannah Rarity, Eabhal, Catriona Watt, Gordon Duncan Experience and Gerda Stevenson. and more to be announced. There will also be a late night ceilidh after the Awards till 1am.
If you would like to support Hands Up for Trad in their work with Scottish trad music and musicians please consider supporting our Patreon campaign. We have 3 tiers starting at $1 a month and everything helps support us in our work. Read more at www.patreon.com/handsupfortrad