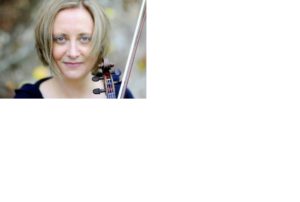 Congratulations to Anna-Wendy Stevenson who have been nominated in Music Tutor of the Year sponsored by Creative Scotland Youth Music Initiative in the MG ALBA Scots Trad Music Awards 2018. Vote now!
We asked Anna-Wendy Stevenson of Anna-Wendy Stevenson the following questions.
Tell us about yourself
I am a fiddler and composer, workshop leader, lecturer and Programme Leader. I started working in Higher education at Lews Castle College out in the Hebrides in 2006 teaching traditional music NC and HNC. In 2012 I took on the role of developing and programme leading the multi-genre BA Applied Music degree for delivery across Scotland with the University of the Highlands and Islands.
I have worked with a wide range of artists, organisations, universities, community groups, festivals and media in the UK, USA, New Zealand, Australia and Europe and recorded on many albums. I have lectured at several institutions and tutored summer schools including: the Conservatoire in Brest, Brittany, Ohio School of the Arts, Boston Harbour Fiddle School, Swannanoa Gathering (North Carolina, USA), Feis Rois, Ceolas and Black Isle Fiddle Weekend. Winner of University of the Highlands and Islands 2016 Best Video Conference Lecturer and finalist for several industry awards including Teacher of the Year in the Scottish Music Industry Awards 2011, Composer of the Year in the MG Alba Scots Trad Awards 2011 for the Celtic Connections Commission 'My Edinburgh'.
Why are you involved in Scottish music?
I grew up immersed in Because it is diverse – there are so many traditions within Scotland's music which makes it a stimulating and creative place for engagement. Because music making facilitates well-being, -individual and community- and has the capacity to develop new communities of practice, vehicles for expression and finding meaning and I think Scotland embraces this 'adventure'.
Any particular career highlights?
• Developing Higher Education music courses in the Hebrides and delivering across Scotland
• Seeing so many students and alumni from the degree courses involved at a professional level in traditional music, performing and teaching in their own communities, nationally, internationally and seeing them be nominated and win awards! As evidenced by the release of a 70 min curated showcase album -Nead nan Ceòladair –'The Musicians' Nest' 'a wonderful collection of Gaelic and Scottish Island music, one in which is an absolute credit to Lews Castle College UHI' Ian D. Hall, Liverpool Sound and Vision
• Developing community and exchange projects–Far Flung Collective with award winning Soundstorm Music Education Agency, Flying Fiddles.
What are your plans for the future?
Far Flung Corners – 2019 – Dorset and Hebrides
Uist Music Scholarship – £1000 scholarship to be launched November 2018 open to support a prospective student in locating to study music in Uist.
HebCelt partnership – Launching November 2018 – the winner will receive a funded performance slot at the HebCelt Festival 2019. Open to any performer or band which includes members who are studying or who have studied (graduates) on one of the music programmes delivered by Lews Castle College UHI – HNC Music, BA Applied Music, MA Music and the Environment.
Feis Rois – Kin and Community – Uist
Feis Rois – Adult Feis May 2019 – tutor
Read more about Anna-Wendy Stevenson
https://www.lews.uhi.ac.uk/about-us/find-us/benbecula-campus/staff/
Facebook: https://www.facebook.com/annawendy.stevenson
Twitter: http://www.twitterhttps://twitter.com/AnnawendyS.com/
If you wish to attend the final ceremony, tickets are available to buy via: https://www.horsecross.co.uk/whats-on/the-mg-alba-scots-trad-music-awards-35002 For box office call 01738 621031 or email box@horsecross.co.uk. Bands performing on Saturday 1st December include includes Croft No Five, Mànran, Karine Polwart Trio, Hannah Rarity, Eabhal, Catriona Watt, Gordon Duncan Experience and Gerda Stevenson. and more to be announced. There will also be a late night ceilidh after the Awards till 1am.
If you would like to support Hands Up for Trad in their work with Scottish trad music and musicians please consider supporting our Patreon campaign. We have 3 tiers starting at $1 a month and everything helps support us in our work. Read more at www.patreon.com/handsupfortrad