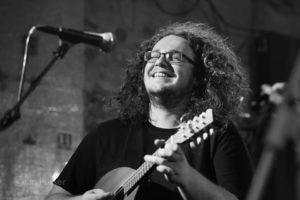 Congratulations to Alasdair Taylor who have been nominated in Composer of the Year sponsored by PRS for Music in the MG ALBA Scots Trad Music Awards 2018. Vote now!
We asked Alasdair Taylor of Alasdair Taylor the following questions.
Tell us about yourself
A graduate of Newcastle University's Folk and Traditional music degree, Alasdair Taylor is a multi instrumentalist and one of Scotland's leading mandolin talents with a touring and gig CV that are far beyond his years.
He is one of the frontmen of multi-award winning neo-trad band, Elephant Sessions, who over the last few years have played all over the world and last year won the coveted Live Act of the Year at the MG Alba Scots Trad music awards.
As a composer, he has written music for his band that has been used on BBC documentaries, in adverts for Celtic Connections and Festival Interceltique de Lorient and at a Scottish Premiership football match.
When not playing with Elephant Sessions, Alasdair spends a lot of his time teaching and playing in his home town of Inverness, in the Scottish Highlands.
Why are you involved in Scottish music?
From a young age, I grew up listening to and playing Scottish folk music. I love being part of a scene that's thriving and I've also made loads of great pals.
Any particular career highlights?
Playing at Glastonbury festival was a real highlight, a proper bucket list thing for me.
Touring round Australia earlier this year and just generally getting to see more of the world.
What are your plans for the future?
To keep writing and performing.
Hopefully take my music and the band to more places around the world that we've not been.
I really enjoy what I do and want to keep doing it for as long as I can.
Read more about Alasdair Taylor
http://elephantsessions.com
Facebook: https://www.facebook.com/elephantsessions/
Twitter: https://twitter.com/ElephantSession
If you wish to attend the final ceremony, tickets are available to buy via: https://www.horsecross.co.uk/whats-on/the-mg-alba-scots-trad-music-awards-35002 For box office call 01738 621031 or email box@horsecross.co.uk. Bands performing on Saturday 1st December include includes Croft No Five, Mànran, Karine Polwart Trio, Hannah Rarity, Eabhal, Catriona Watt, Gordon Duncan Experience and Gerda Stevenson. and more to be announced. There will also be a late night ceilidh after the Awards till 1am.
If you would like to support Hands Up for Trad in their work with Scottish trad music and musicians please consider supporting our Patreon campaign. We have 3 tiers starting at $1 a month and everything helps support us in our work. Read more at www.patreon.com/handsupfortrad