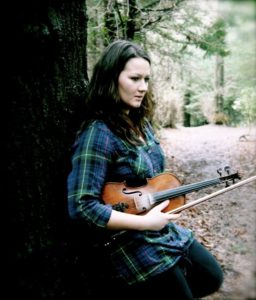 Congratulations to Roisin Anne Hughes who have been nominated in Instrumentalist of the Year sponsored by Royal Scottish Country Dance Society in the MG ALBA Scots Trad Music Awards 2017. Vote now!
We asked Roisin Anne Hughes of Roisin Anne Hughes the following questions.
Tell us about yourself
I'm Roisin Anne and I'm a fiddle player from Glasgow. This year has been a particularly exciting one for me as I was crowned All Ireland Senior Fiddle Champion at Fleadh Cheoil na hÉireann in Ennis.
I'm absolutely thrilled to join a list of fiddle greats and become, not only the 1st female from Britain but, the 3rd overseas female to win the award since its inception in the 1950s – alongside Liz Carroll and Eileen Ivers!! A complete honour.
Why are you involved in Scottish music?
Since the age of 6 when I first walked through the doors of St Roch's school in Royston one Tuesday night, I've been hooked! I'm very fortunate to have learned music through the Irish Minstrels Comhaltas branch, under the tutelage of Frank McArdle. I grew up receiving tuition for free and for the past 12 years or so I've been passing that tradition on to lots of talented young musicians coming through the ranks!
I eat, sleep and breathe traditional music and long may it continue!
Any particular career highlights?
This nomination in itself is a massive career highlight!
For me, winning the Senior Fiddle at the Fleadh is something I had always aspired to do. That feeling of achievement after putting in so much work is something that will stay with me forever and hopefully shows the value of practice & dedication to the young musicians around me (I hope they're reading this!!).
I'm also very fortunate to have been in the BBC Scotland Young Traditional Musician of the Year final. This was a completely different kind of experience for me and I loved every minute of it!
What are your plans for the future?
I plan on playing as much music as I can! I'm really grateful for all the opportunities I've had to play music and share amazing memories with great friends and musicians. If I keep doing that I'll be very happy!
Read more about Roisin Anne Hughes

Facebook: http://www.facebook.com/
Twitter: http://www.twitter.com/roisinanneh
If you would like to come along to the MG ALBA Scots Trad Music Awards in Paisley's Lagoon Centre call 0300 300 1210 or to buy online visit www.paisley2021.co.uk/events/the-mg-alba-scots-trad-music-awards. Tickets can also be purchased via Paisley Arts Centre. Bands performing on Saturday 2nd December include Elephant Sessions, The Shee Big Band, Siobhan Miller, Tidelines, Paisley Fèis, Snuffbox, The Seamus O'Sullivan Experience, Lori Watson, Jenna Reid and Harris Playfair, Songs of Bàrd Phàislig (featuring Gillebrìde MacIlleMhaoil, Sìneag MacIntyre, Màiri NicAonghais, Seonaidh MacIntyre, Ewan MacPherson, Mhairi Hall, Màiri Nic a Mhaoilein and more to be announced. There will also be a late night ceilidh after the Awards till 1am.