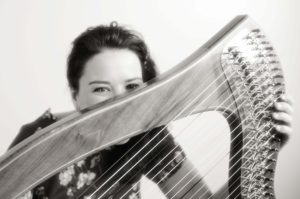 Congratulations to Pippa Reid-Foster who have been nominated in Music Tutor of the Year sponsored by Creative Scotland Youth Music Initiative in the MG ALBA Scots Trad Music Awards 2017. Vote now!
We asked Pippa Reid-Foster of Pippa Reid-Foster the following questions.
Tell us about yourself
Born and having lived most of her life on the West Coast of Scotland, Pippa sees the beautiful and dramatic landscape very much as home territory. A graduate of the Royal Conservatoire of Scotland, she is not only an accomplished performer and composer but is also passionate about passing on her skills to a new generation of musicians and composers of the Scottish harp.
Why are you involved in Scottish music?
Scottish Music is part of my heritage and I am proud to be Scottish, proud to teach the music of Scotland to a new generation of players and share the rich history and folklore of our country.
Any particular career highlights?
Teaching and performing at the Edinburgh International Harp Festival last year and teaching at the next festival 30th March – 4th April 2018. I was a BBC Radio Scotland Young Traditional Musician 2014, exciting opportunity. I released my solo album Driftwood Harp in November 2016, a fantastic achievements and have been enjoying sharing this in concert and local schools. Also hearing my album being played in so many places and on air. The recent Mod in Lochaber some of my students did really well, very proud tutor. Some students came away with medals, one gold, two bronze and two silver medals. Over the last year I have been running monthly harp workshops for all abilities and ages in my home town, these have been set up alongside harpist Heather Downie and is called Harp Bazaar. We also run annual children's camps, adults retreats for keen harpists and we organised last year a children's harp competition where the final prize was a Camac Harp. Harp Bazaar played at the Mod this year and we won gold, 17 students on stage performing together. I am proud to say I have taken the number of students playing the harp in the Helensburgh area from 12 to 48, these are students ranging from 6 to 70.
What are your plans for the future?
Organising more performances for my local Harp Bazaar group, I have an average 16 players who come along each month who are keen and really enjoying playing as an ensemble.
Complete a new album of compositions which I am currently working on.
Perform more, especially sharing my album Driftwood Harp alongside the history and folklore which is piece is inspired by.
Read more about Pippa Reid-Foster
http://www.pippareidfoster.com
Facebook: https://www.facebook.com/HarpistScotland/
Twitter: https://twitter.com/search?q=pippa%20reid-foster&src=typd&lang=en-gb
If you would like to come along to the MG ALBA Scots Trad Music Awards in Paisley's Lagoon Centre call 0300 300 1210 or to buy online visit www.paisley2021.co.uk/events/the-mg-alba-scots-trad-music-awards. Tickets can also be purchased via Paisley Arts Centre. Bands performing on Saturday 2nd December include Elephant Sessions, The Shee Big Band, Siobhan Miller, Tidelines, Paisley Fèis, Snuffbox, The Seamus O'Sullivan Experience, Lori Watson, Jenna Reid and Harris Playfair, Songs of Bàrd Phàislig (featuring Gillebrìde MacIlleMhaoil, Sìneag MacIntyre, Màiri NicAonghais, Seonaidh MacIntyre, Ewan MacPherson, Mhairi Hall, Màiri Nic a Mhaoilein and more to be announced. There will also be a late night ceilidh after the Awards till 1am.