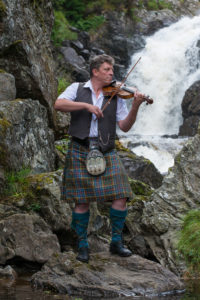 Congratulations to Paul Anderson who have been nominated in Instrumentalist of the Year sponsored by Royal Scottish Country Dance Society in the MG ALBA Scots Trad Music Awards 2017. Vote now!
We asked Paul Anderson of Paul Anderson the following questions.
Tell us about yourself
Traditional fiddler, teacher and composer from Tarland in Aberdeenshire, on the edge of the Cairngorms National Park. From a farming family, steeped in the fiddle tradition of the North-East of Scotland. Been playing professionally since 1998. Began playing after finding an old fiddle under my grandparents spare bed.
Why are you involved in Scottish music?
After finding the old fiddle and then beginning lessons I found I'd an aptitude for the instrument and the various festivals and competitions I attended quickly became the highlights of my year; at a formative age it was the one thing I was good at. I love Scottish music and feel it's important to pass on what I've learned from my peers and tutors to the next generation. There's also a strong family tradition of fiddle playing (despite my parents not playing) which goes back to Peter Milne "The Tarland Minstrel" who was fiddle tutor and father figure to James Scott Skinner.
Any particular career highlights?
Was Glenfiddich Scottish fiddle champion in 1995. Scots Fiddle tutor to three Glenfiddich champions. Composed a Symphony and over 500 tunes. Presented a series of musical features on BBC Scotland's "Landward" and had a cameo role end the new film adaptation of "Whisky Galore" (along with Fergie MacDonald). Searched for and eventually discovered the site of Peter Milne's unknown paupers grave in Aberdeen then raised the money for an appropriate memorial stone to be erected on the site.
What are your plans for the future?
Would like to continue much as I am with performing, teaching and composing. Would like to compose a 2nd Symphony to accompany my 1st.
Read more about Paul Anderson
http://www.paulandersonscottishfiddler.com
Facebook: http://www.facebook.com/
Twitter: http://www.twitter.com/
If you would like to come along to the MG ALBA Scots Trad Music Awards in Paisley's Lagoon Centre call 0300 300 1210 or to buy online visit www.paisley2021.co.uk/events/the-mg-alba-scots-trad-music-awards. Tickets can also be purchased via Paisley Arts Centre. Bands performing on Saturday 2nd December include Elephant Sessions, The Shee Big Band, Siobhan Miller, Tidelines, Paisley Fèis, Snuffbox, The Seamus O'Sullivan Experience, Lori Watson, Jenna Reid and Harris Playfair, Songs of Bàrd Phàislig (featuring Gillebrìde MacIlleMhaoil, Sìneag MacIntyre, Màiri NicAonghais, Seonaidh MacIntyre, Ewan MacPherson, Mhairi Hall, Màiri Nic a Mhaoilein and more to be announced. There will also be a late night ceilidh after the Awards till 1am.