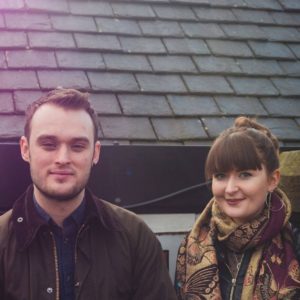 Congratulations to Josie Duncan & Pablo Lafuente who have been nominated in Folk band of the Year sponsored by Threads of Sound in the MG ALBA Scots Trad Music Awards 2017. Vote now!
We asked Josie Duncan of Josie Duncan & Pablo Lafuente the following questions.
Tell us about yourself
2017 BBC Radio 2 Young Folk Award Winners Josie Duncan and Pablo Lafuente are a vocal/guitar duo like no other.
Having made their way to Glasgow from the Isle of Lewis and Spain respectively, its no wonder their music doesn't focus on oonly ne place but rather on the many strands of Scotland's web of traditions.
They are well traveled and well versed beyond their years in music from across the land. On guitar, and vocals in Gaelic, Scots and English, their music is a round tour, with songs of industry and protest, heartbreak and even potatoes. Always focusing on the story telling element on any traditional song.
Josie's voice, crystal clear with an island twang is equally at home in any of these domains. Accompanied by Pablo's dynamic, sensitive guitar playing, they illuminate the lyrics. The music at times sparse and haunting, at others driving and all consuming leaving audiences stunned.
They are both accomplished musicians in their own right. Josie Duncan is a recent graduate of the Royal Conservatoire of Scotland, where she studied with some of the masters of the Scottish and Gaelic traditions. She's toured extensively, performing at festivals and venues in Europe, Canada and America. Her other projects include a collaboration with innovative Gaelictronica band Inyal, and Blasta, a showcase of singers of the Isle of Lewis commissioned by this year's Festival Interceltique de Lorient.
Pablo Lafuente's experiences are no less varied. He's put down cultural roots in Scotland, exploring the tradition to its deepest core. Since completing his studies of guitar and fiddle at the National Centre for Excellence in Traditional music he's been in high demand, playing, recording and touring internationally with artists including: The Outside Track, Barluath, Sketch and Spanish Gaita extraordinary Anxo Lorenzo.
Since joining forces in 2016 they've taken the scene by storm, quickly becoming an in-demand live act at festivals and venues across the country. In their short time together they've delighted the audiences of BBC Radio 2, Celtic Connections Festival, Sofar sessions, and a host of venues across Scotland.
Their debut EP: Half of What You See, was released in December 2016 on Skye Records.
With a debut album set to be released at this years celtic connections, the duo's successes are only set to continue.
Why are you involved in Scottish music?
We have both been lucky enough to be immersed in traditional music from the central belt and the Outer Hebrides respectively from a young age, taking part in feisean and the musical happenings of Stornoway and Stirling. Now as young adults we have both been drawn to and met in the city of Glasgow. We admire and take part in Glasgow's exciting fast-paced 'folk scene' – as lovers and hosts of traditional music sessions as well as frequent performers.
Any particular career highlights?
Our career highlights include taking part in and winning the Radio 2 Young Folk Award, performing at Proms in the Park, recording our debut album and performing to twenty thousand people at Fairports Cropredy convention, all of which was this year.
What are your plans for the future?
At the upcoming Celtic Connections Festival, we will release our debut album. Following this, we will be touring the album extensively across the UK and further afield, which will lead to another busy festival season.
Read more about Josie Duncan & Pablo Lafuente
http://www.josiepablomusic.com
Facebook: http://www.facebook.com/JosiePabloMusic
Twitter: http://www.twitter.com/
If you would like to come along to the MG ALBA Scots Trad Music Awards in Paisley's Lagoon Centre call 0300 300 1210 or to buy online visit www.paisley2021.co.uk/events/the-mg-alba-scots-trad-music-awards. Tickets can also be purchased via Paisley Arts Centre. Bands performing on Saturday 2nd December include Elephant Sessions, The Shee Big Band, Siobhan Miller, Tidelines, Paisley Fèis, Snuffbox, The Seamus O'Sullivan Experience, Lori Watson, Jenna Reid and Harris Playfair, Songs of Bàrd Phàislig (featuring Gillebrìde MacIlleMhaoil, Sìneag MacIntyre, Màiri NicAonghais, Seonaidh MacIntyre, Ewan MacPherson, Mhairi Hall, Màiri Nic a Mhaoilein and more to be announced. There will also be a late night ceilidh after the Awards till 1am.