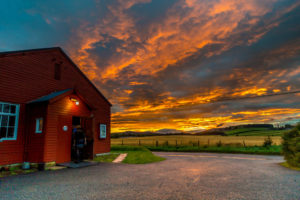 Congratulations to GLASSEL HALL who have been nominated in Venue of the Year sponsored by Musicians' Union in the MG ALBA Scots Trad Music Awards 2017. Vote now!
We asked Bryony Smith of GLASSEL HALL the following questions.
Tell us about yourself
Glassel Gigs are a voluntary committee whose aim is to promote live music and preserve community gatherings in Glassel Hall, near Banchory, Aberdeenshire.Since we began hosting regular traditional concerts in 2004, the venue has grown in popularity to the extent that we now stage around 20 gigs each year, and in some cases have scheduled double billings in order to meet ticket demand. It is gratifying that the gigs have brought our local community of like-minded music lovers together and that we have also seen our catchment area for ticket sales extended significantly with some of our audience travelling a distance to come to Glassel. The gigs are planned carefully to maintain a diversity and freshness in music and we place emphasis on great hospitality for the performers who stay with us. We provide high quality and professional sound and lights and a welcoming homely stage setting .
Why are you involved in Scottish music?
Coming from farming and fishing back grounds, traditional music and songs are in our blood and we are proud of our culture. There is a tremendous wealth of talent in the Trad music scene in Scotland and it gives us great pleasure providing a platform for traditional music, played live, whether it be bothy ballads, Gaelic songs, blistering pipe tunes or stomping sets and reels. Artists such as Saltfishforty , Mairearad , Anna and Jenn , Kris Drever and Sarah McFadyen were some of our very first performers and we feel really proud to have seen them subsequently flourish and become highly acclaimed artists on the Trad music scene . Of course, Scottish music has strong cultural connections across the world and we have enjoyed hosting international artists such as Nordic Fiddlers Bloc, De Temps Antan, East Pointers, Ten Strings and a Goatskin, Madison Violet and Sharon Shannon, each performing their own particular strand of traditional music. Our audiences typically encounter these international artists for the first time when they appear at Glassel , and we get a real buzz when we see their reaction on the night to making a new musical discovery .
Any particular career highlights?
Saltfishforty recorded their 4th album Live in Glassel Hall – a real honour for us. They also named one of their sets " The Glassel Jig" which is included on the album.
Recordings of gigs live from the hall for broadcasting on BBC Radio Scotlands "Travelling Folk" show, such as Sharon Shannon , Ten Strings and a Goatskin, De Temps Antan , and Saltfishforty's launch of their 5th Album "BERE".
We staged the first "Glassel Gathering" last year , collaborating Ross and Ali , Mairearad and Anna with Saltfishforty. .It was an almighty success and staged for 2 nights .
Hosting some of our long time heroes such as Blazin' Fiddles , Boys of the Lough, Session A9 , Breabach ,The Chair and Daimh .
We try to teach the non-Scottish artists some Doric words and phrases for a bit of fun , and the wholehearted way that they have all engaged in this has been a real treat and has helped cement lasting relationships …only last week the Madison Violet girls video messaged us from their tour in Germany to say that the weather was " afa DREICH " !
What are your plans for the future?
It is quite simply tae haud 'er gyan , and to continue having lots of fun along the way.
Read more about GLASSEL HALL

Facebook: http://www.facebook.com/
Twitter: http://www.twitter.com/
If you would like to come along to the MG ALBA Scots Trad Music Awards in Paisley's Lagoon Centre call 0300 300 1210 or to buy online visit www.paisley2021.co.uk/events/the-mg-alba-scots-trad-music-awards. Tickets can also be purchased via Paisley Arts Centre. Bands performing on Saturday 2nd December include Elephant Sessions, The Shee Big Band, Siobhan Miller, Tidelines, Paisley Fèis, Snuffbox, The Seamus O'Sullivan Experience, Lori Watson, Jenna Reid and Harris Playfair, Songs of Bàrd Phàislig (featuring Gillebrìde MacIlleMhaoil, Sìneag MacIntyre, Màiri NicAonghais, Seonaidh MacIntyre, Ewan MacPherson, Mhairi Hall, Màiri Nic a Mhaoilein and more to be announced. There will also be a late night ceilidh after the Awards till 1am.