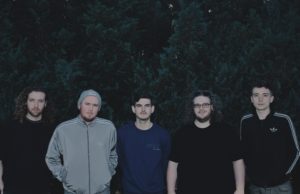 Congratulations to Elephant Sessions who have been nominated in Album of the Year sponsored by Birnam CD, Live Act of the Year sponsored by Greentrax Recordings in the MG ALBA Scots Trad Music Awards 2017. Vote now!
We asked Alasdair Taylor of Elephant Sessions the following questions.
Tell us about yourself
Winners of the MG Alba Scots Trad Awards 'Up and Coming Act of the Year 2014, and nominated as Live Act of the Year in 2016, the fiery Highland five-piece Elephant Sessions are a musical power house, welding weapons grade grooves and guitar attack with quicksilver fiddle/mandolin melodies.
The group fuses rich folk and trad influences with funk, rock and electronica in an instantly captivating, progressive, visceral blend.
In just a few short years Elephant Sessions have already become renowned for breathtaking live shows throughout the UK and Europe, taking the festival scene well and truly by storm with appearances at Glastonbury, Denmark's Tønder and a sold out headline show at Celtic Connections 2017.
The band's critically acclaimed debut album, The Elusive Highland Beauty, amassed wide radio play across BBC Radio 2 and BBC Radio 6, whilst their follow-up, the eagerly awaited All We Have Is Now – released in May 2017 has been greeted with rave reviews, as critics reach for superlatives!
They followed this up with a triumphant appearance at Europe's largest folk gathering – Brittany's Festival Interceltique de Lorient –– in August, where they allegedly not only brought the roof down, but incited such heights of euphoria that their audience ultimately broke the sprung wooden dancefloor.
Why are you involved in Scottish music?
We all grew up playing and listening to Scottish music and have found that there is nothing more fun than travelling around the world with your mates making music.
Any particular career highlights?
Definitely Glastonbury and Colours of Ostrava festival in Czech Republic.
So fun.
What are your plans for the future?
We just want to keep having fun, making music and seeing cool places we'd never otherwise have got to see.
Long may that continue.
Read more about Elephant Sessions
http://elephantsessions.com/
Facebook: https://www.facebook.com/elephantsessions/
Twitter: https://twitter.com/ElephantSession
If you would like to come along to the MG ALBA Scots Trad Music Awards in Paisley's Lagoon Centre call 0300 300 1210 or to buy online visit www.paisley2021.co.uk/events/the-mg-alba-scots-trad-music-awards. Tickets can also be purchased via Paisley Arts Centre. Bands performing on Saturday 2nd December include Elephant Sessions, The Shee Big Band, Siobhan Miller, Tidelines, Paisley Fèis, Snuffbox, The Seamus O'Sullivan Experience, Lori Watson, Jenna Reid and Harris Playfair, Songs of Bàrd Phàislig (featuring Gillebrìde MacIlleMhaoil, Sìneag MacIntyre, Màiri NicAonghais, Seonaidh MacIntyre, Ewan MacPherson, Mhairi Hall, Màiri Nic a Mhaoilein and more to be announced. There will also be a late night ceilidh after the Awards till 1am.