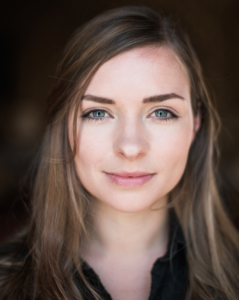 Congratulations to Claire Hastings who have been nominated in Citty Finlayson Scots Singer of the Year sponsored by TMSA in the MG ALBA Scots Trad Music Awards 2017. Vote now!
We asked Claire Hastings of Claire Hastings the following questions.
Tell us about yourself
I am a folksinger/songwriter originally from Dumfries, now living in Glasgow. I perform as a solo artist, in Top Floor Taivers and with The Claire Hastings Band. In 2015 I won BBC Radio Scotland's Young Traditional Musician of the Year Award, and have since performed at many high profile events including Proms in the Park at Glasgow Green and BBC Music Day with the Scottish Symphony Orchestra.
As well as performing, I am also involved in several teaching projects across Scotland, leading workshops for all ages from early years to the elderly. I am very passionate about my work with Live Music Now Scotland, a charity based organisation which brings live music to a range of audiences. Since 2013, I have been involved in various projects with LMNS alongside singer Robyn Stapleton and group Aonach Mòr.
Last year I released my debut solo album 'Between River and Railway', which was described as 'one of the best Scottish releases this year (2016) in any musical genre' by Alan Morrison; head of music at Creative Scotland. Earlier this year Top Floor Taivers released our debut album 'A Delicate Game', which received great reviews.
My music has reached radio stations worldwide, and I have had television appearances on STV and BBC Alba. My vocals feature prominently on the soundtrack for Anthony Baxter's documentary; 'You've Been Trumped Too' (2016)
Why are you involved in Scottish music?
I am very proud of Scottish culture, heritage and languages, and I think it is important to carry on the tradition of Scottish music. I feel lucky to be in a great community of like-minded people who also see the importance of carrying on the tradition. With an interest in history, I find it fascinating that I can perform a traditional song which has been sung by many people over hundreds of years.
Any particular career highlights?
Winning BBC Young Traditional Musician of the Year was a definite highlight. I had followed the competition for many years, and it never crossed my mind that I could actually win! Sharing the stage with Lulu, Jamie Callum and Deacon Blue for BBC Music Day was unbelievable, and certainly a night I will never forget. Releasing my debut album was really special, as that has been an ambition of mine since I was a wee girl. A recent highlight with Top Floor Taivers was recording a live video with Joss Stone. We got her singing some Scots!
What are your plans for the future?
I am currently rehearsing for my second solo album which is due for release next year. I have a few tours lined up for 2018, including two in Germany which I'm really excited about.
Read more about Claire Hastings
http://www.clairehastings.com
Facebook: http://www.facebook.com/clairehastingsmusic
Twitter: http://www.twitter.com/ClaireHastings1
If you would like to come along to the MG ALBA Scots Trad Music Awards in Paisley's Lagoon Centre call 0300 300 1210 or to buy online visit www.paisley2021.co.uk/events/the-mg-alba-scots-trad-music-awards. Tickets can also be purchased via Paisley Arts Centre. Bands performing on Saturday 2nd December include Elephant Sessions, The Shee Big Band, Siobhan Miller, Tidelines, Paisley Fèis, Snuffbox, The Seamus O'Sullivan Experience, Lori Watson, Jenna Reid and Harris Playfair, Songs of Bàrd Phàislig (featuring Gillebrìde MacIlleMhaoil, Sìneag MacIntyre, Màiri NicAonghais, Seonaidh MacIntyre, Ewan MacPherson, Mhairi Hall, Màiri Nic a Mhaoilein and more to be announced. There will also be a late night ceilidh after the Awards till 1am.