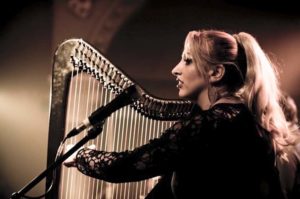 Congratulations to Ailie Robertson who have been nominated in Composer of the Year sponsored by PRS for Music in the MG ALBA Scots Trad Music Awards 2017. Vote now!
We asked Ailie Robertson of Ailie Robertson the following questions.
Tell us about yourself
Ailie Robertson (b.1983) is a multi-award winning composer and performer whose work crosses the boundaries of traditional and contemporary music. Winner of The Sofia International Composition Competition, the SCO iCompose Prize, and 2nd in the Oslo Grieg Competition, Ailie has received commissions, awards and residences from Creative Scotland, Enterprise Music Scotland, the CCA, Culture Ireland, Celtic Connections,EIFF, and CALQ Montreal. She was chosen for the 2016/17 RSNO Composer's hub, is a 2017/18 London Philharmonic Orchestra Leverhulme Artist, was awarded a BBC Performing Arts Fellowship and was winner of the 'Achievement in New Music' prize at the inaugural New Music Scotland Awards.
She tours worldwide both solo and with bands and projects such as The Outside Track and The Secret North.
Why are you involved in Scottish music?
I've played the clarsach since I was 12, and have always loved the inclusive yet adventurous nature of the Scottish Music Scene. I love playing music that connects me with the past, while simultaneously being so forward-looking.
Any particular career highlights?
Winning the 'Achievement in New Music' prize at the inaugural New Music Scotland Awards 2017
What are your plans for the future?
Jan 2018 – New Voices Suite at Celtic Connections
March 2018 – Premiere of new work for Live Music Now! Scotland
March 2018 – Premiere of new work for CALL Llandudno
May 2018 – Release new album of own compositions
June 2018 – Premiere of new work at St Magnus Festival
July 2018 – Premiere of new work by London Philharmonic Orchestra
Read more about Ailie Robertson
http://www.ailierobertson.com
Facebook: http://www.facebook.com/ailierobertsonmusic/
Twitter: http://www.twitter.com/ailierobertson
If you would like to come along to the MG ALBA Scots Trad Music Awards in Paisley's Lagoon Centre call 0300 300 1210 or to buy online visit www.paisley2021.co.uk/events/the-mg-alba-scots-trad-music-awards. Tickets can also be purchased via Paisley Arts Centre. Bands performing on Saturday 2nd December include Elephant Sessions, The Shee Big Band, Siobhan Miller, Tidelines, Paisley Fèis, Snuffbox, The Seamus O'Sullivan Experience, Lori Watson, Jenna Reid and Harris Playfair, Songs of Bàrd Phàislig (featuring Gillebrìde MacIlleMhaoil, Sìneag MacIntyre, Màiri NicAonghais, Seonaidh MacIntyre, Ewan MacPherson, Mhairi Hall, Màiri Nic a Mhaoilein and more to be announced. There will also be a late night ceilidh after the Awards till 1am.