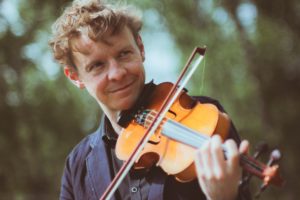 Congratulations to Adam Sutherland who have been nominated in Album of the Year sponsored by Birnam CD, Composer of the Year sponsored by PRS for Music in the MG ALBA Scots Trad Music Awards 2017. Vote now!
We asked Adam Sutherland of Adam Sutherland the following questions.
Tell us about yourself
Composer/fiddler/teacher. Twice nominated for this category before, hoping to win it this time.
Why are you involved in Scottish music?
It's my lifelong passion to investigate where our tradition can go from here.
Any particular career highlights?
Having my tunes being played and recorded in far flung countries. Releasing my first book of compositions last November. Releasing my first solo album in 2013. Touring and recording with Session A9, Treacherous Orchestra, Peatbog Faeries, and Nae Plans.
What are your plans for the future?
Second solo record released at CC on Feb 2nd. Touring with my own band. Volume II of Errogie Collection.
Read more about Adam Sutherland
http://www.adamsutherland.co.uk
Facebook: http://www.facebook.com/adamfiddle
Twitter: http://www.twitter.com/adamfiddle
If you would like to come along to the MG ALBA Scots Trad Music Awards in Paisley's Lagoon Centre call 0300 300 1210 or to buy online visit www.paisley2021.co.uk/events/the-mg-alba-scots-trad-music-awards. Tickets can also be purchased via Paisley Arts Centre. Bands performing on Saturday 2nd December include Elephant Sessions, The Shee Big Band, Siobhan Miller, Tidelines, Paisley Fèis, Snuffbox, The Seamus O'Sullivan Experience, Lori Watson, Jenna Reid and Harris Playfair, Songs of Bàrd Phàislig (featuring Gillebrìde MacIlleMhaoil, Sìneag MacIntyre, Màiri NicAonghais, Seonaidh MacIntyre, Ewan MacPherson, Mhairi Hall, Màiri Nic a Mhaoilein and more to be announced. There will also be a late night ceilidh after the Awards till 1am.