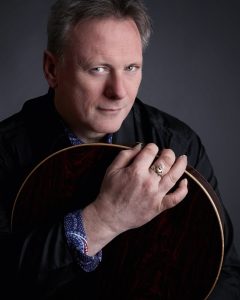 Congratulations to Tony McManus who have been nominated in Instrumentalist of the Year sponsored by Royal Scottish Country Dance Society in the MG ALBA Scots Trad Music Awards 2016. Vote now!
We asked Tony McManus of Tony McManus the following questions.
Tell us about yourself
I was born and raised in Paisley and grew up with trad music very much appreciated (though not actually played) at home- and neither appreciated nor played at school. The guitar grabbed me at a young age and soon as I got one I set about playing these dance tunes I heard on records on it. Various milestones were encountering the music of Tony Cuffe, Dick Gaughan, Arty McGlynn, Martin Simpson, Soig Siberil….all of whom had an impact on shaping my music.
Since age 10 I've been grappling with these two obsessions- guitar and trad music- and trying to make one work with the other, to find a voice for the guitar within our music.
I've been fortunate to have worked with many significant figures in Scottish music- whether artists whose albums I've worked on, touring musicians like Brian McNeill, Alasdair Fraser and others with whom I've played live, or those involved in the blossoming educational side of our culture who've given me a platform to share my ideas and approach.
I'm currently based in Canada (a short distance from the biggest Scottish festival in the country) and come home two or three times a year to tour and enjoy!
Why are you involved in Scottish music?
My family is of Irish descent and my start in music in the 70s coincided with what seemed to be an explosion of interest in their tradition. From there it was a short journey to discover some of the incredible Scottish music that was then absent from popular culture.
My instrument has not had a long tradition as a carrier of melody so there's been a wide open field for me to explore the diversity of forms within our traditions- from the songs of Robert Burns, from Gaelic song- and on both I've been lucky to accompany our finest singers, from the piping tradition, from the fiddle music of the greats; Skinner, Marshall, the Gows etc. right up to the amazing compositions of my peers.
Dealing with all that breadth of creativity and focusing some of it onto one guitar is a lifetime's work- and that will only scratch the surface!
Any particular career highlights?
I opened the final show at the first Celtic Connections for Capercaillie. 2500 people- and 2487 more than were at my gig in Edinburgh the night before. I was given my own gig a couple of years later at CC and was joined by the late Ishbel MacAskill, Malcolm Stitt, Dougie Pincock and a bunch of Bretons! Great night!
Having my PRS signature guitar launched at the NAMM trade show in LA was a highlight- standing in front of the entire music press in a lineup with Carlos Santana, Al Di Meola, Orianthi, Ricky Skaggs….and thinking "long way from my primary school cloakroom" where I got my first chords.
Scariest gig was at the New York Met where their instrument collection was receiving an acoustic and an electric from the makers of my guitars. John McLaughlin played the electric and I the acoustic and both are now in glass cases at the museum having been played only on that night.
What are your plans for the future?
My last CD was a collection of classical and baroque music played on acoustic. I'm looking to record more traditional music on the next one!
I have been touring and performing much more in Scotland in the last couple of years and hope to continue being a part of the very vibrant scene here.
One thing that's starting to happen is remote recording- where the technology allows you to do session work from anywhere in the world. I miss very much being a phone call away from guesting on a CD and now the internet allows that to be done in a studio in Ontario. So there are a couple of Scottish recording projects in the works.
Read more about Tony McManus
http://www.tonymcmanus.com
Facebook: http://www.facebook.com/TonyMcManusMusic
Twitter: http://www.twitter.com/TonyMcManus3
If you would like to come along to the MG ALBA Scots Trad Music Awards in Dundee's Caird Hall call the Caird Hall box office on (01382) 434940 or buy online.