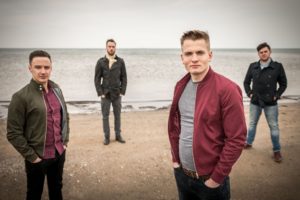 Congratulations to Tide Lines who have been nominated in Live Act of the Year sponsored by Greentrax Recordings in the MG ALBA Scots Trad Music Awards 2017. Vote now!
We asked Robert Robertson of Tide Lines the following questions.
Tell us about yourself
Tide Lines are a four-piece band based in Glasgow who are heavily influenced by the traditional music of their native Highlands and Islands, but whose highly eclectic sound is driven by acoustic and electric guitars, with drums and keyboards. The band consists of Robert Robertson from Lochaber (vocals/guitar), Ross Wilson from the Island of Mull (keyboards/piano), Alasdair Turner from Alness (electric guitar/bagpipes), and Fergus Munro from Glasgow (drums).
Why are you involved in Scottish music?
As individuals, we don't believe we could ever fully extract ourselves from the traditional Scottish, Highland music with which we have been brought up; and while there are many influences in our sound (including pop and rock), the Gaelic tradition is at the heart of everything we do.
Any particular career highlights?
Recording and touring our debut album, Dreams We Never Lost, has been a highlight for the band. The album was released on Friday 1st June 2017. By the following day, while we were onstage performing the album's material at Oban Live, it rose to number 14 in the iTunes UK download charts, and was subsequently trending on Apple Music which was a lovely surprise.
We then toured Dreams We Never Lost around numerous festivals including The Hebridean Celtic Festival, Tiree Music Festival, Lorient Interceltique Festival, Speyfest, Eilean Dorcha Festival, Killin Music Festival, Northern Roots, Best of the West Festival, The Cowal Gathering, and Trelawnyd Folk at the Hall. There were many highlights and great experiences over those weeks and months!
What are your plans for the future?
In the near future, we are very excited about our Celtic Connections 2018 show on February 3rd in Saint Luke's. After that we are looking forward to touring this country and further afield, and working on a second album.
Read more about Tide Lines
http://www.tidelinesband.com
Facebook: http://www.facebook.com/wearetidelines
Twitter: http://www.twitter.com/wearetidelines
If you would like to come along to the MG ALBA Scots Trad Music Awards in Paisley's Lagoon Centre call 0300 300 1210 or to buy online visit www.paisley2021.co.uk/events/the-mg-alba-scots-trad-music-awards. Tickets can also be purchased via Paisley Arts Centre. Bands performing on Saturday 2nd December include Elephant Sessions, The Shee Big Band, Siobhan Miller, Tidelines, Paisley Fèis, Snuffbox, The Seamus O'Sullivan Experience, Lori Watson, Jenna Reid and Harris Playfair, Songs of Bàrd Phàislig (featuring Gillebrìde MacIlleMhaoil, Sìneag MacIntyre, Màiri NicAonghais, Seonaidh MacIntyre, Ewan MacPherson, Mhairi Hall, Màiri Nic a Mhaoilein and more to be announced. There will also be a late night ceilidh after the Awards till 1am.