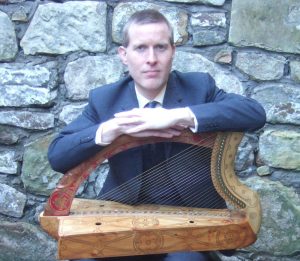 Congratulations to Simon Chadwick who have been nominated in Music Tutor of the Year sponsored by Creative Scotland Youth Music Initiative in the MG ALBA Scots Trad Music Awards 2016. Vote now!
We asked Simon Chadwick of Simon Chadwick the following questions.
Tell us about yourself
Simon Chadwick abandoned his studies in archaeology to explore the world of ancient oral tradition music. He digs down into the oldest strands of folk music, pores over dusty manuscripts, and uses replicas of the historical museum instruments, to recreate the distinctive northern European soundscapes: enigmatic, quavering and mesmeric.
In 2007, Simon commissioned a replica of the medieval Queen Mary harp held in the National Museum of Scotland, from the Irish sculptor, Davy Patton. This beautifully decorated instrument with its precious metal strings forms the inspiration for Simon's investigation of the old traditions.
Why are you involved in Scottish music?
I have lived in Fife for 10 years now, and quickly became involved in the Scottish traditional music scene in Dundee with the Friends of Wighton. I had been interested in historical Scottish and Irish music before then, through my archaeological work on the ancient harp traditions. I love the way that Scottish music is intensely community-oriented and personal, yet has a depth and sophistication rivalling anything from elsewhere.
Any particular career highlights?
I have played a series of lunchtime concerts in St Andrews every summer for the past 10 years and it has been a delight and honour to be supported in that by regulars and visitors from St Andrews and further afield. I was particularly pleased last year to take the replica Queen Mary harp to Kisimul Castle on Barra where I played Spaidsearachd Bharraigh (MacNeil of Barra's March) for the MacNeill, as part of the Islands Castles Conference organised by the Islands Book Trust. My greatest satisfaction comes from discovering hidden or lost connections between places, tunes, people and instruments, and bringing back to life a specific local sound from centuries ago.
What are your plans for the future?
"Onward and upward"
Read more about Simon Chadwick
http://www.simonchadwick.net
Facebook:
Twitter: http://www.twitter.com/s_m_chadwick
If you would like to come along to the MG ALBA Scots Trad Music Awards in Dundee's Caird Hall call the Caird Hall box office on (01382) 434940 or buy online.