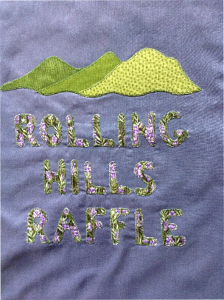 Congratulations to Rolling Hills Folk Club who have been nominated in Club of the Year sponsored by Trac Scotland in the MG ALBA Scots Trad Music Awards 2016. Vote now!
We asked Ron Anderson of Rolling Hills Folk Club the following questions.
Tell us about yourself
The Rolling Hills Folk Club reached its 10th birthday in October 2016 with many of the original singers, musicians and story-tellers being part of the celebration. The club meets on the first and third Friday of each month ( except for July and August) and after starting off in Melrose it has arrived, via two different pubs , at the acoustically and architecturally beautiful Smith Memorial Hall in Darnick, just under a mile from the centre of Melrose, towards Galashiels.
Ron Anderson started the club after a memorable trip to Cape Breton in Nova Scotia with Riddell Fiddles and other friends, where the Scottish Traditional Music scene was really thriving and where Matt McGinn's brilliant song, 'The Rolling Hills of the Borders', featured on many of the performances by the group during the trip. He returned with a strong urge to find a venue in the central Scottish Borders in south-east Scotland, where he could encourage others to share and explore the local singing traditions of the area as well as from further afield.
Over the years audiences have enjoyed over 150 nights of excellent and diverse guest nights, interspersed with excellent floor singers/ musicians and recitations.
The wide spectrum of guests has included highly respected traditional unaccompanied Scottish singers, multi-instrumental Scottish groups and artists from many countries, including Denmark, Australia and Canada. Visitors always really appreciate the warm welcome and very friendly atmosphere as well as the wonderful acoustics of the club's venue and the high quality of the floor spots. These always include traditional unaccompanied singers, for which the club is well known, including Elsa Lemaitre and Ian and Lesley Abernethy, as well as a variety of musicians, including our amazing blues duo (Seoras Ashby and Bill Muir) and regular guitarist, singer of Burns and provider of haggis samosas on Burns night, Charlie Coward, but also amusing recitations by John Pollitt of Darnick from the talents of Mike Harding, Stanley Holloway and more, and with an occasional joke from Barbara as well.
Ron is the regular compere and is aided and abetted by wife Ros and daughter Jenny, all of whom also sing. Club regulars provide great support and a number of them travel many miles to enjoy the Club, come rain or shine. Some even build their long weekends in the beautiful Borders around the club dates. These include visitors from south of the Border who really enjoy the opportunity to hear live music in this beautiful Scottish venue.
Lesley Abernethy cleverly incorporated the 'Rolling Hills' of the Scottish Borders, into a unique raffle bag, which is seen at every club night and in the photo.
The club is based in just 15 minutes from the new Tweedbank rail terminus so is accessible from Edinburgh and close to bus routes to and from Galashiels, Peebles, Selkirk and Hawick.
Scott Murray,booked guest (7/11/2014) said of the club:
'I played at the Rolling Hills Folk Club by Melrose, in the lovely Smith Memorial Hall at Darnick. Great place to sing, and some of the finest floor singers I've heard in more than twenty years performing at folk clubs.'
Jim Gill, Darnick resident and folk club regular wrote in the recent village newsletter:
'It is great having this club meet in our hall as it provides excellent and varied entertainment right on our door step and it is great to see a number of village residents taking advantage of this and now attending these events.'
Why are you involved in Scottish music?
My ethos is to encourage as many people as possible to recognise and enjoy the diverse nature of the Scottish musical tradition and to provide the opportunity for established performers whilst encouraging others to find the confidence to sing or play in our friendly club. My route to starting the club to allow this to happen has covered a few miles!
As explained above, the experience of Cape Breton moved me to action in terms of setting up a club, but I was already immersed in the amazing Riddell Fiddles group which does so much to promote traditional tunes of the Borders and keep the tradition of fiddle playing high on the local agenda.
However, my interest in folk singing began in the early 60s. Back then, I was singing protest songs as a young boy with my Dad on Glasgow marches against nuclear weapons, well before Bob Dylan's voice was being heard.
When I moved to the north-west of England in the 70s for work, I discovered that folk music was very much happening. It was there that I met Harry Boardman, a very modest and wonderful man, who really established the importance of keeping traditional songs and music alive, through his excellent folk club. Everyone was made welcome and encouraged to 'do a turn', whether a singer, musician or any combination, and poets and story-tellers as well. Many who went on to become very well established on the folk scene, found their roots and confidence through Harry and he left a great legacy, which is highly regarded. Although he did his best to persuade me to sing, having heard me belting out the choruses, it was in Bristol where I realised what I had been missing and finally found my 'public' singing voice. It was, though, thanks to so many influences from my past . It was in Bristol that I started borrowing records from the library, listening to them over and over again, to learn the tunes, whilst scribing the lyrics and then typing them up on the old Olivetti- everything from The McCalmans to Donovan and Dylan and so much more and subsequently built up a Burns collection to learn the tunes for the songs in my father's treasured book.
Over the years, I have enjoyed folk music in so many venues across the UK, in small clubs and also smaller festivals and thoroughly enjoy the musical variety, the familiarity of so many songs and the camaraderie. Indeed, it was in a folk club where I met my future soul-mate- now my wife of almost 30 years-what more can I say as a recommendation!
Whilst living for many years in England, I became 'educated' in another folktradition -Morris Dancing, another experience full of camaraderie, not just related to real ale consumption! So far I haven't transferred my percussion skills to the many Borders Pipe Bands! Maybe one day!
Any particular career highlights?
In running the club I have especially enjoyed giving young artists a window to display their talent. This includes Barluath, who arrived newly graduated from the Glasgow Conservatoire, where they all met. They fairly raised the roof of the Hall with their instruments which included two sets of pipes.
The young Ewan MacLennan was a guest in the early stages of his amazing career and the unexpected visit by musicians from the Edinburgh University Folk Club, led by Scott Gardner, and staying in the Melrose Youth Hostel, brought more young talent.
The spontaneous arrival of Ian McCalman with his witty recitation about passing youthdom was another highlight and when the talented Pete Coe returned after several previous guest slots, we also welcomed Archie Fisher to the audience and he will be a repeat guest later in December.
An unexpected bonus was the arrival of the 'Folk Trail' en route from Land's End to John O'Groats in 2011, sharing and enjoying the folk tradition on their travels.
And a most amazing evening materialised when a group of 26 tourists from Heidelberg arrived to hear our Lanarkshire guests, Haggerdash, sing 'The Last Train to Heidelberg'. Although they had sent an enquiry about the evening, we assumed they weren't able to make it until they arrived late with no drink in spite of the 'byob' warning which had been given. Extra seats were rapidly arranged, drink was purchased for them from Melrose and they all entered into the spirit of performance with a group rendition of "Muss-i-dann', a local Heidelberg tune made famous by Elvis Presley and performed by Heidelbergers in Darnick!
All of these examples show the variety which makes running the club a constant highlight for me. Even on the quieter, more intimate nights ,when we may have lower numbers , sometimes due to Scottish weather , illness or , sometimes, competition from TV (!) , there is great variety and often something different is pulled out of the hat to amuse everyone- maybe a Tom Lehrer number with accompaniment on the hall's piano or a tribute to Victoria Wood- we have a real mix of talent which is a constant highlight for me.
What are your plans for the future?
To keep the Rolling Hills Folk Club running in the wonderful Darnick village venue, which is highly regarded by all singers and musicians, and to encourage many more from the village itself and nearby Melrose, to discover the fantastic live music on their doorstep. This is where audiences can come and see talented musical acts who are either already stars on the national and international scene, or who may well be the stars of tomorrow, and there are many examples in the extensive guest list on our website- who could wish for more? No-one needs to feel pressure to perform but encouragement is certainly here for anyone who would like to try. If lovers of traditional music prefer to come along and knit in time to the music that is also fine! ( and two of our regulars do just that!)
Anything else which happens will be a bonus and my absolute aim is that the Club will never lose the friendliness which means that folk of any age or persuasion can feel comfortable, whether arriving on their own , or in company.
Hopefully they will feel keen to come back again and ideally be moved to keep the traditional music and song alive and well, not just in our Club but wherever they travel.
Just to summarise, I have never forgotten Harry Boardman's encouragement and the way he ran his folk club. I hope that he woud feel that I have done him proud back on my home ground of Scotland- the wee Scotty who never quite sang solo in his club!
Read more about Rolling Hills Folk Club
http://rollinghillsfolkclub.org.uk
Facebook: http://www.facebook.com/rollinghills
Twitter: http://www.twitter.com/darnickfolkclub
If you would like to come along to the MG ALBA Scots Trad Music Awards in Dundee's Caird Hall call the Caird Hall box office on (01382) 434940 or buy online.