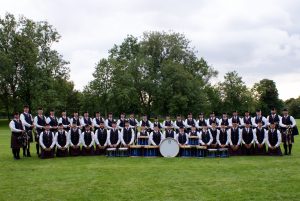 Congratulations to Police Scotland Fife Pipe Band who have been nominated in Pipe band of the Year sponsored by The Glenturret Single Malt Whisky in the MG ALBA Scots Trad Music Awards 2016. Vote now!
We asked Melannie Rieley of Police Scotland Fife Pipe Band the following questions.
Tell us about yourself
Police Scotland Fife Pipe Band was established in 2007 initially forming under the then Fife Constabulary. In 2013 with the formation of Police Scotland the name of the band was changed. The band designed their own tartan,"Fife Constabulary (Carnegie of Fife) which they still wear. On initial registration with the RSPBA in 2007, due to the caliber of the players they were classed as Grade 1. This is an accolade given to only a very few other newly formed bands. The band started competing in 2008 and have continued to perform well at major competitions. The current Pipe Major is double Gold Medalist Douglas Murray with the leading drummer being Mick O'Neill. The band is formed with Police Officers and civilian members.
Why are you involved in Scottish music?
When the band was formed in 2007 Fife Constabulary were the only Scottish Police Force at that time that did not have a pipe band. We are currently the only grade 1 band in the Kingdom of Fife.
Any particular career highlights?
Earlier this year, April 2016 the band was invited to perform at The Virginia International Tattoo. 30 band members travelled to America and performed in a cast of over 1,400 performers from 8 nations and represented a multitude of civilian and military communities and traditions. This was the bands first international trip.
This year at the Scottish Pipe Band Championships the band was placed 6th overall and the drummers were placed 2nd. At the World Pipe Band Championships at Glasgow Green in August the band had their best result to date being placed 6th overall with the drummers placed 3rd. This result made them the current top Police Band in the world.
What are your plans for the future?
To build on the success of the 2016 season to consolidate our position in the top 6 pipe bands in Grade 1 in the World. 2017 is the ten year anniversary of the band and it is with that in mind that we are putting in the hard miles over the winter period in order to make it an anniversary to remember.
Read more about Police Scotland Fife Pipe Band

Facebook: http://www.facebook.com/FifePolicePipeBand
Twitter: http://www.twitter.com/@Fife_Police_PB
If you would like to come along to the MG ALBA Scots Trad Music Awards in Dundee's Caird Hall call the Caird Hall box office on (01382) 434940 or buy online.