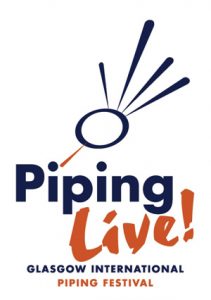 Congratulations to Piping Live! – Glasgow International Piping Festival who have been nominated in Event of the Year sponsored by VisitScotland in the MG ALBA Scots Trad Music Awards 2016. Vote now!
We asked Helen Wilkinson of Piping Live! – Glasgow International Piping Festival the following questions.
Tell us about yourself
Glasgow International Piping Festival – Piping Live! – is a week-long celebration presenting the UK's and the Worlds biggest spectacle of piping, run by The National Piping Centre. Piping Live! has become established as a key festival within Glasgow's annual events diary. It takes place in early August and attracts local, national and international audiences of around 40,000. The Piping Live! programme includes street performances, top artists and workshop sessions held at indoor and outdoor venues in and around Glasgow city centre.
Why are you involved in Scottish music?
The development and progression of piping from across the world is the central aim of the festival. Bringing international performers to Glasgow and showcasing local artists for the World's biggest week of piping, is what gives Piping Live! it's drive to further explore the truly international aspects of piping and wider traditional music.
Any particular career highlights?
In 2016 Piping Live! attracted over 40,000 attendances across its 150 events, with 834 artists from 16 nations including Slovakia, Switzerland, New Zealand and Canada.
In our 13 years we have hosted some of the world's top international traditional music stars including Fred Morrison, Kathryn Tickell, Anxo Lorenzo, and the Treacherous Orchestra, as well as bringing through up and coming young artists such as RURA and the Scott Wood Band. We have created landmark solo piping events such as The Masters and the U21 competition Pipe Idol, which attracts international competitors.
What are your plans for the future?
The future for Piping Live! is to continue to bring together and develop the international relationships amongst the piping and traditional music world. The festival will continue to develop high quality events, showcasing the best piping and traditional music, as well as supporting breakthrough artists and young musicians.
Read more about Piping Live! – Glasgow International Piping Festival
http://www.pipinglive.co.uk
Facebook: http://www.facebook.com/PipingLiveFestival
Twitter: http://www.twitter.com/glasgowpiping
If you would like to come along to the MG ALBA Scots Trad Music Awards in Dundee's Caird Hall call the Caird Hall box office on (01382) 434940 or buy online.