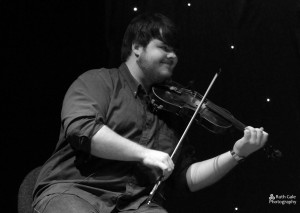 Congratulations to Tomás Callister who have been nominated in Instrumentalist of the Year sponsored by Royal Scottish Country Dance Society in the MG ALBA Scots Trad Music Awards 2015. Vote now!
We asked Tomás Callister of Tomás Callister the following questions.
Tell us about yourself
-I'm from the Isle of Man
-I started playing the fiddle around the age of 5 or 6
-I grew up playing music from the Isle of Man and Ireland and learned from my dad and a couple of great teachers, Katie Lawrence and Brian Myers
-I studied on Uist at UHI Benbecula
-I play with a couple of groups, MecLir and Barrule trio
Why are you involved in Scottish music?
My mum is Scottish and has always loved Scottish music but I had never really played much till I moved to Uist in 2010. There I learned from Anna Wendy-Stevenson, Simon Bradley and Iain Macdonald. They exposed me to lots of Scottish music especially that of the west coast and piping music. I felt like I'd been shown a way into a totally different and amazing tradition that I hadn't previously known about! I love it! The tunes Iain gave me and all of us up there were mind blowing and they opened my eyes to different tunes and different ways of playing. The greatest thing about being in Scotland was meeting so many like minded people and learning so much and gaining so many fantastic friends! Totally changed my life and was the best decision I ever made.
Any particular career highlights?
My most recent trip and favourite so far was to Nova Scotia to the Celtic colours festival. What a beautiful place filled with beautiful folk! It was my second ever time that side of the pond and I was totally taken aback by how much people there love music in general!
Other highlight were Celtic connections two years ago, playing at the fruitmarket was a real buzz. Representing the Isle of Man at lorient festival in Brittany numerous times is also always a total scream too! This year the Isle of Man was the featured nation and it was an honour to play in two groups there!
We also had the wonderful opportunity to play at the national Celtic festival in Australia and it was amazing but we were only there for six days and I won't be repeating that journey unless it's for a little more time… Brutal!
I've been lucky enough to have done a tiny bit of work with Donald Shaw, playing fiddle on "Katie Morag" a book That was read to me as a young child. That was very special for me.
All together I feel extremely lucky to have been able to play my fiddle all over the place and meet all the wonderful people I know! One more genuine highlight is (I'm sure you hear this all the time) being nominated for this award… I know it's bad craic to say but it was a genuine surprise a pleasure and an honour to be nominated! Thanks very much again.
What are your plans for the future?
Plan no.1 have fun and breath!
Plan no.2 see if I can survive till my beautiful girlfriend arrives back from Thailand!
I'd love to just carry on playing the fiddle as much as I can. I'd love to get an album out sometime in the not so distant future and I'd like to learn as much as I can while continuing to visit cool places! So many tunes and so little time!
Read more about Tomás Callister
http://www.meclir.com
Facebook: https://m.facebook.com/tomas.callister?refsrc=https%3A%2F%2Fwww.facebook.com%2Ftomas.callister
Twitter: http://www.twitter.com/Tomasmanx
If you would like to come along to the MG ALBA Scots Trad Music Awards in Dundee's Caird Hall call the Caird Hall box office on (01382) 434940 or buy online.