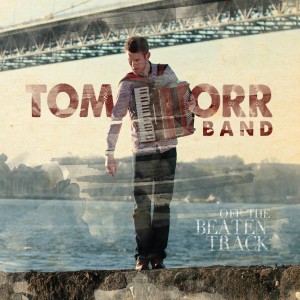 Congratulations to Tom Orr who have been nominated in Instrumentalist of the Year sponsored by Royal Scottish Country Dance Society in the MG ALBA Scots Trad Music Awards 2015. Vote now!
We asked Tom Orr of Tom Orr the following questions.
Tell us about yourself
Tom Orr is one of the brightest and leading exponents of Scottish Dance Band music, influencing young musicians across the country. Whether playing accordion or piano he plays to highest standard and is never afraid to experiment and take the music idiom into new places.
His talents are not limited to Scottish Dance Music alone, Tom is equally at home within the wider realms of traditional music where he has been seen to showcase the adaptability of his technique and musicality.
Why are you involved in Scottish music?
The buzz, the addiction, the new opportunities, the people, the creativity, and it makes me a better person.
Any particular career highlights?
The thing I love about music is that new highlights happen all the time. My view is that music makes you look forward rather than being nostalgic. Therefore….this months particular highlight is performing at the Scots Trad Awards Ceremony and being nominated for 'Instrumentalist of the Year'!
What are your plans for the future?
To keep pursuing new opportunities, meeting and playing with as many new people as possible, and looking forward to seeing what new musical experience is waiting around the corner…
Read more about Tom Orr
http://www.tomorrmusic.co.uk
Facebook: https://www.facebook.com/Tom-Orr-Band-1587193688163314/
Twitter:
If you would like to come along to the MG ALBA Scots Trad Music Awards in Dundee's Caird Hall call the Caird Hall box office on (01382) 434940 or buy online.