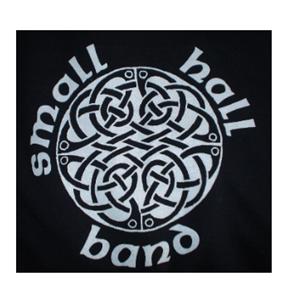 Congratulations to The Small Hall Band who have been nominated in Community Project of the Year sponsored by Gordon Duncan Memorial Trust in the MG ALBA Scots Trad Music Awards 2015. Vote now!
We asked Liz Marroni of The Small Hall Band the following questions.
Tell us about yourself
The Small Hall Band began in 1995, (long before our current members were born !) started by a small group of families who enjoyed playing Scottish Traditional music. Joining in is free, the only requirements being an interest in learning and playing traditional music and a willingness to give time, and have fun participating in concerts, ceilidhs, and music sessions. Parents have always been involved both as musicians and as organisational helpers, particularly with transport, although many have also learned instruments. Band members and families / friends come from different areas in the Scottish Borders, and North Northumberland as we are situated just outside Coldstream on the River Tweed's border with England. Our monthly practices are always highly sociable, with home made cakes featuring strongly.
Over the years the band has expanded and has a sufficiently large repertoire to sustain varied and excellent concerts and lively family ceilidhs. The Band has played in over 100 different venues, many of them small village halls, across the South East of Scotland, North Northumberland and beyond, bringing traditional music, song and ceilidh dancing to many communities and hopefully inspiring others to join. At times the band has had as many as 39 folks on stage, mostly between the ages of 7 and 17, plus some adults. Our present band of about 26-30 comprise fiddle, flute, whistle, piano, guitar, banjo, cajon and mandolin players.
Although membership has naturally changed over the years, many of the original members, including several who are now established professional musicians, working internationally, – Innes Watson, Lori Watson, Carly Blain, Christina Marroni, keep in regular touch and still play with us on occasions. Many others continue their involvement with music in their own families and other circumstances – including Andrew Waite, Chris Waite, Lillias Kinsman Blake and Rachel Cross.
Why are you involved in Scottish music?
Scottish Ceilidh dancing is a great social activity for all ages. Our Family Ceilidhs have always been well-attended lively celebrations, whether as part of festivals, local community events, charity fundraisers or school European Exchange visits. The band's long term involvement with The Border Gaitherin –Coldstream, in May each year, has brought the music and dance to a wider audience, many from outwith Scotland.
Our concerts also raise others' awareness of the vibrancy and quality of Scottish Traditional music. Several of the members have been finalists in the Scottish Burns Federation annual competitions and some now also bring a Scottish dimension to 'Folkestra' and The Ranters. Over the years the band has had a constant stream of winners at local folk festivals.
'Passing on the tradition' has also been a feature of the band. Over the years, ex-Small Hall Band members have given us workshops – Lori Watson, Innes Watson, Lillias Kinsman Blake & Shona Mooney (The Shee), Carly Blain, and of course, one of our favourite guys, Chris Stout (not a previous SHB member, obviously!). They continue to inspire the current band to enjoy the music, to perform at their best and to create new tunes and arrangements. Already, we have now welcomed a much younger group referred to as 'The Small Hall Bandits' led by an older band member. Some of our older teenage members have also branched out to follow their own musical paths.
Any particular career highlights?
Over the years the band has played at several prestigious events and locations, too numerous to list, but including a concert at the Millennium Dome in 2000; events at the Ecole Musical de Vif (Grenoble, France) in 2001 (with a return visit in 2003 and 2015).
The current band members have been involved in the following :-
In 2012 and 2014 the band helped to raise over £1000 for the Isle of Muck new community hall.
A concert in Uyeasound, Unst, Shetland in 2013 contributed to a local charity as well as being a thoroughly memorable week !
More recently the band were playing for these events:
2013 September – 'Folk Rockin' at Flodden 2013;
2014 July – Celebratory arrival of the Commonwealth Games torch to Scotland at Coldstream.
2014 November – Afternoon Recital at the |Scots Fiddle Festival
2015 June – Full morning workshop with Chris Stout – fantastic !
2015 August – Supporting concert band for visiting musicians from Grenoble, France
2015 September – Concert – 'Berwick Waite and Sea' project.
What are your plans for the future?
The current band have busy lives with many other commitments outwith school, but are still keen to enjoy coming together to perform and practice. They also continue to support other festivals at Newcastleton, Innerleithen, Edinburgh and Hexham Youth Gaitherings and Tinto Summer School.
All our funds are raised through concerts and ceilidhs, and over the years have covered the costs of three CD's made for families and friends :- '' Cakes & Ceilidh", and 'Small Hall Band All-Stars'. Our third one, recorded in June 2015, as yet un-named, should be out in November 2015.
Discussions about a Summer Tour in 2016 have commenced. We would also hope to be able to play at Celtic Connections soon and would also love to go to other countries.
My family and myself have been involved since the beginning with The Small Hall Band and I still continue as 'Musical co-ordinator'. It continues to be a great privilege for me to be associated with such aspiring young musicians and to see them develop both musically and personally through their commitment to the band.
Liz Marroni, October 2016
Read more about The Small Hall Band
http://www.smallhallband.stinge.com/#
Facebook: https://www.facebook.com/thesmallhallband?fref=ts
Twitter: http://www.twitter.com/
If you would like to come along to the MG ALBA Scots Trad Music Awards in Dundee's Caird Hall call the Caird Hall box office on (01382) 434940 or buy online.