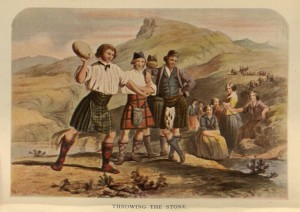 Congratulations to The League of Highland Gentlemen who have been nominated in Up and Coming Artist of the Year sponsored by Royal Conservatoire of Scotland in the MG ALBA Scots Trad Music Awards 2015. Vote now!
We asked Ewen Henderson of The League of Highland Gentlemen the following questions.
Tell us about yourself
We are the League of Highland Gentlemen and we'll see you at the Cèilidh.
By name, we are Seonaidh MacIntyre, Ross Wilson, Ewen Henderson and Alec Dalglish.
Why are you involved in Scottish music?
An interest in the broader spectrum of Scottish music is a most desirable virtue in any Highland Gentleman and proves particularly useful when meeting with associates and companions from the Lowlands.
Any particular career highlights?
Of our three performances so far, our (surprisingly vast) debut concert at the Tiree Music Festival would probably be acknowledged as the highlight, closely followed by a secret gig at Glasgow University. A proper secret gig – even we had no idea it was happening. Other highlights would include the time we filmed a video out-with Ross' living room and the time we rounded off a fascinating talk on Land Reform by unleashing our own take on West Highland music on an unsuspecting yet largely nonplussed audience.
What are your plans for the future?
We plan to uphold the values of true Highland gentlemanliness whilst continuing to experiment with "ceòl-dealain" (lightning music) bedecked in tweed, regardless of temperature.
Read more about The League of Highland Gentlemen
https://www.facebook.com/wearetheLHG
Facebook: http://www.facebook.https://www.facebook.com/wearetheLHGcom/
Twitter: http://www.twitter.com/
If you would like to come along to the MG ALBA Scots Trad Music Awards in Dundee's Caird Hall call the Caird Hall box office on (01382) 434940 or buy online.