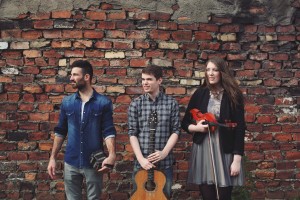 Congratulations to Talisk who have been nominated in Up and Coming Artist of the Year sponsored by Royal Conservatoire of Scotland in the MG ALBA Scots Trad Music Awards 2015. Vote now!
We asked Mohsen Amini of Talisk the following questions.
Tell us about yourself
Winners of the BBC Radio 2 Young Folk Award, Talisk have already made a big impression on the folk music scene since their formation in August last year. The group also won a coveted Danny Kyle Award at Celtic Connections 2015 and have performed live in session on BBC Radio 2.
Mohsen Amini (Concertina), Hayley Keenan (Fiddle) and Craig Irving (Guitar) utilise their strong individual backgrounds in Irish and Scottish music to create an award winning sound. The trio's engaging and energetic performances have already seen them perform at some of Britain's biggest festivals, including Cambridge Folk Festival, and Fairport Convention's Cropredy Festival.
Why are you involved in Scottish music?
Mohsen came through comhaltas learning Irish music and soon immersed himself in the Glasgow music scene where the Scottish music is very vibrant and he was hooked on it whereas Hayley and Craig both learned their music from a Scottish background with Hayley going to there Feis and Craig studying in Benbecula.
Any particular career highlights?
I would have to say the highlights of our career as Talisk would be firstly winning the Danny Kyle award at the start of the year but better than that would be winning the BBC Radio 2 Young Folk Award shortly after giving us the chance to play at some of the biggest festivals in traditional music.
What are your plans for the future?
We are planning to bring our debut album out in May 2016 and launching it all around the UK.
Read more about Talisk
http://www.talisk.co.uk
Facebook: http://www.facebook.com/TaliskMusic
Twitter: http://www.twitter.com/TaliskMusic
If you would like to come along to the MG ALBA Scots Trad Music Awards in Dundee's Caird Hall call the Caird Hall box office on (01382) 434940 or buy online.