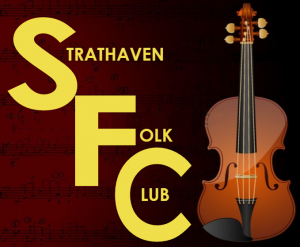 Congratulations to Strathaven Folk Club who have been nominated in Club of the Year sponsored by Trac Scotland in the MG ALBA Scots Trad Music Awards 2015. Vote now!
We asked Graham Carter of Strathaven Folk Club the following questions.
Tell us about yourself
Strathaven Folk Club was founded in May 2014 by Graham Carter(Organiser), Lucy Dawson (Treasurer & Venue Proprietor) and Ian Thomson (Club MC). We meet on the third Friday of each month at The Gallery with alternate Guest Performer Evenings and Singers' Nights. Our aim is to provide a welcoming home for Traditional Music in Strathaven in a lovely venue. Strathaven once had a fine Folk Club but it fizzled out some years ago so we are proud to have resurrected it. We are gratified by the fact that our audiences are a mixture of both established Folkies and people from the wider local community.
Why are you involved in Scottish music?
Because I am a musician from England who happened to marry a Scot. We moved to Strathaven in 2006 and I began to attend Quarter Acoustic Music Club near Hamilton where I met lots of great people from the Folk scene, began to seriously learn lots of Folk Songs, and did my first headlining show. Since then I have become an established performer, playing in various Folk clubs & Festivals in Scotland & England.
Any particular career highlights?
– Meeting Johnny Silvo.
– Meeting Peggy Seeger (at Milngavie Folk Club) who encouraged me to play the Banjo.
– Appearing on Celtic Music Radio with Mary Kathleen Burke & Ciaran Dorris
– Performing at Carnegie Hall in Dunfermline with Andrew Gordon in 2014
– Organising & Performing at charity event "Folk Fights Cancer"
– First ever performer at Strathaven Folk Club 2014
– Being Booked to play at Wimborne Minster Folk Festival.
– Making people sing wherever I play.
.
What are your plans for the future?
To keep the Folk Club going and continue to build our audience by publicising to folk community and local community.
To help organise the first Strathaven Folk Festival.
To organise "Folk Fights Cancer No.2
To become more widely known as a Folk Musician in my own right & play more gigs.
Read more about Strathaven Folk Club

Facebook: http://www.facebook.com/strathavenfolkclub
Twitter: http://www.twitter.com/
If you would like to come along to the MG ALBA Scots Trad Music Awards in Dundee's Caird Hall call the Caird Hall box office on (01382) 434940 or buy online.