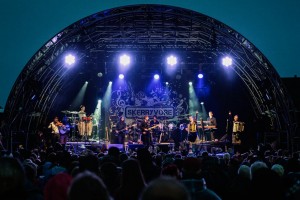 Congratulations to SKERRYVORE:DECADE who have been nominated in Event of the Year sponsored by VisitScotland in the MG ALBA Scots Trad Music Awards 2015. Vote now!
We asked Daniel Gillespie of SKERRYVORE:DECADE the following questions.
Tell us about yourself
Decade was held in Oban on 30th May 2015 to celebrate the 10th anniversary of trad-­rock band Skerryvore, who formed in the region back in 2005. It was the first time that a major outdoor concert had been held at Mossfield Stadium. After 3000 tickets sold out in 90mins, the event was granted permission to increase capacity and sold out 6000 tickets for the one day concert that would feature a host of special guests including Sharon Shannon and Dougie MacLean.
Why are you involved in Scottish music?
Fusing traditional scottish music with other genres has always been at the core of Skerryvore's sound. The first 10 years of the band have been an amazing journey and it is incredible to look back at all the places we have visited because of our music and fusion of styles.
Any particular career highlights?
Decade has been without doubt the major highlight of the Skerryvore journey. To see 6000 people from all over the world travel to Oban for our 10th anniversary is something we shall never forget.
What are your plans for the future?
With the success of Decade, we have just launched an annual open-air concert at Mossfield called Oban Live. We look forward to welcoming more special guests and bands to Oban for another special weekend on the 13th & 14th May 2016
Read more about SKERRYVORE:DECADE
http://skerryvoredecade.com
Facebook: http://www.facebook.com/skerryfans
Twitter: http://www.twitter.com/skerryvore
If you would like to come along to the MG ALBA Scots Trad Music Awards in Dundee's Caird Hall call the Caird Hall box office on (01382) 434940 or buy online.