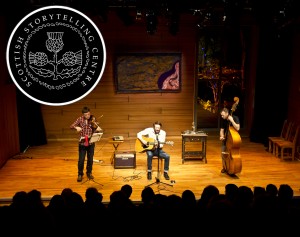 Congratulations to Scottish Storytelling Centre who have been nominated in Venue of the Year sponsored by Musicians' Union in the MG ALBA Scots Trad Music Awards 2015. Vote now!
We asked Lindsay Corr of Scottish Storytelling Centre the following questions.
Tell us about yourself
The Scottish Storytelling Centre is a vibrant arts venue, a great meeting place and a unique site, steeped in Scottish culture, which is dedicated to supporting and showcasing Scotland's traditional arts.
Tradition itself is a story – learned from the past, told in the present, but looking to the future. The Scottish Storytelling Centre captures both the roots of Scotland's culture and its radical cutting edges, where ancient and modern meet within the location, architecture and programming.
The Centre is a home for Scotland's Culture and hosts two Festivals each year; TradFest in the spring and the Scottish International Storytelling Festival in the autumn – both of which are celebrations of Scottish tradition and the contemporary arts – as well as hosting a year round programme of music, talks, tours, theatre, dance, storytelling and exhibitions.
Why are you involved in Scottish music?
Storytelling and music go hand in hand, enabling a richer experience of the traditional arts through collaboration and inspiration. The Scottish Storytelling Centre has been establishing connections and giving a platform to all kinds of Scots musicians, from well-respected performers through to rising stars and new groups eager to continue burning the trad flame.
The Centre provides the perfect backdrop to music events, with award-winning acoustics in both the 99 seater Netherbow Theatre and the Storytelling Court.
Any particular career highlights?
Taking on the task of operating and steering the newly branded TradFest in 2013 was an exciting development for the Centre. It gave the venue a larger profile within the wider Trad Music networks and attracted some fantastic acts to perform in the venue spaces. Having delivered three TradFests now there is hopefully a recognition that the festival is an exciting, engaging and collaborative approach to promoting the traditional arts in Edinburgh and Scotland.
What are your plans for the future?
Onwards and upwards, with the Storytelling Centre becoming a focus for the Traditional Arts, in interaction with contemporary society and culture. A host for the ongoing ever evolving ceilidh that is Scotland!
Keep an eye out for TradFest 2016 (Wed 27 April – Sun 8 May) which promises to build on its reputation as a fledging festival to keep 'a finger on the national pulse.' (fRoots)
Read more about Scottish Storytelling Centre
http://www.scottishstorytellingcentre.co.uk
Facebook: http://www.facebook.com/ScottishStorytellingCentre
Twitter: http://www.twitter.com/ScotStoryCentre
If you would like to come along to the MG ALBA Scots Trad Music Awards in Dundee's Caird Hall call the Caird Hall box office on (01382) 434940 or buy online.