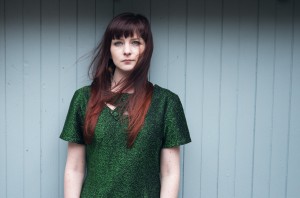 Congratulations to Sarah Hayes who have been nominated in Composer of the Year sponsored by PRS for Music in the MG ALBA Scots Trad Music Awards 2015. Vote now!
We asked Sarah Hayes of Sarah Hayes the following questions.
Tell us about yourself
I'm a singer and flute player from Northumberland, and I moved to Glasgow ten years ago. I like being involved in lots of different musical adventures! I play solo, in three classical chamber groups and in the bands Admiral Fallow, Wildings and Alistair Anderson & Northlands. I teach privately and in community music settings. Over the past few years I've been exploring the world of composition a bit more.
Why are you involved in Scottish music?
I've been playing traditional music since I was about ten or eleven, having been introduced to it via local sessions, workshops and gigs in the north east of England. When it came to picking somewhere to go and study, Glasgow was an ideal choice due to its thriving musical life. I feel very lucky to be part of the Scottish music scene; it's welcoming, diverse and open-minded.
Any particular career highlights?
Performing my New Voices piece, Woven, at Celtic Connections; being part of Inge Thomson's Da Fishing Hands project; playing on albums by Karine Polwart and Ian Stephenson; collaborating with Lahore singer Sara Kazmi; travelling the world with Admiral Fallow.
What are your plans for the future?
Release Woven as my debut solo album and perform it in full again at Celtic Connections 2016. Keep writing, listening and playing.
Read more about Sarah Hayes
http://www.sarahhayes.net
Facebook: http://www.facebook.com/sarahjhayesmusic
Twitter: http://www.twitter.com/sarahhayes_
If you would like to come along to the MG ALBA Scots Trad Music Awards in Dundee's Caird Hall call the Caird Hall box office on (01382) 434940 or buy online.