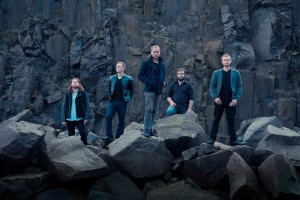 Congratulations to RURA who have been nominated in Live Act of the Year sponsored by Greentrax in the MG ALBA Scots Trad Music Awards 2015. Vote now!
We asked RURA the following questions.
Tell us about yourself
"One of the most exciting bands on the Scottish folk scene" (Songlines), RURA, whilst rooted in tradition, are a refreshingly contemporary act. Rugged yet disciplined, heartfelt whilst rousing and anthemic, and all-together punch-packing.
Internationally renowned – and in demand – for their powerhouse mix of highland pipes, whistle, flute, fiddle, bodhran, guitar and voice, RURA are one of the most sought-after bands of their generation. Steven Blake, Jack Smedley, David Foley and Adam Brown create hard-hitting, muscular, yet intricately arranged and lyrical, instrumentals to match singer/songwriter Adam Holmes' haunting songcraft – a perfected mix that has seen them rise to headline status at festivals throughout the UK and Europe.
Since bursting on to the scene in 2010, as award winners at Glasgow's Celtic Connections festival, RURA have firmly established themselves as a major force. The release of their heralded first album, Break It Up, in 2012 was accompanied by multiple award wins and nominations, and now the five-piece's 2015 follow-up, Despite the Dark, is meeting unrelentingly high praise.
Why are you involved in Scottish music?
It's great!
Any particular career highlights?
This year has been mental. We released our second album in April, and since then didn't really stop touring until early October – two big UK tours, a three week tour in eastern Canada, and 15 festivals, including flying visits to Germany, Malta, Denmark and Switzerland. We've still got Edinburgh's Hogmanay to come, which will round off an amazing year, and kick start another…
What are your plans for the future?
Next year is already looking very busy – we're starting at Celtic Connections with a headline gig in the Old Fruitmarket (sweet!) and have UK, German and Austrian tours on the go, as well as a good few summer festivals already announced (and more to come). We're looking well into 2017 as well, including tours in new countries for us, so that's quite exciting. Musically, we're focusing on how to deliver the best, fullest live show we can – building up effects and using the full scope of our instruments – whilst also looking towards new material and potential collaborations.
Read more about RURA
http://www.RURA.co.uk
Facebook: http://www.facebook.com/RURAmusic
Twitter: http://www.twitter.com/RURAband
If you would like to come along to the MG ALBA Scots Trad Music Awards in Dundee's Caird Hall call the Caird Hall box office on (01382) 434940 or buy online.