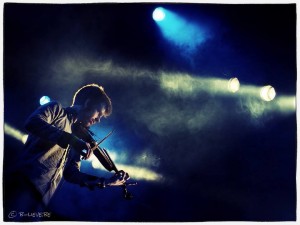 Congratulations to Ross Couper who have been nominated in Instrumentalist of the Year sponsored by Royal Scottish Country Dance Society in the MG ALBA Scots Trad Music Awards 2015. Vote now!
We asked Ross Couper of Ross Couper the following questions.
Tell us about yourself
I'm a fiddle player from the Shetland Islands. I play with Skye based band 'Peatbog Faeries' and also with guitarist and flute player, Tom Oakes.
Why are you involved in Scottish music?
I started playing the fiddle when I was very young and learned mainly from my mother, Margaret Scollay. My Grandfather, the late Lell Robertson also played, as did members of my family for as many generations back as anyone can remember. It's always been one of the most important things in my life and I'm at my happiest when playing music with other people. Also, it's mighty craic!
Any particular career highlights?
I've really enjoyed travelling the world with my music.
I had great trips to Australia with both the band and the duo.
Early in the following year I had a great trip to Canada with the band.
Recently I've been to Azerbaijan with the Peatbogs where we played to an audience of 2000 people in square in the old city of Baku. That was a really memorable one.
I've been lucky enough to tour in Scandinavia quite a lot over the last 10 or so years and it's one of my favourite places to go. Tom Oakes and I did a tour with Kevin Henderson as a trio some years ago in Norway, that trip always sticks in my mind as a really good one.
Earlier this year I played at Førde Festival with Fiddlers' Bid in a depping capacity. I've had tunes with the guys all through growing up so it was a brilliant fun going away to do a festival with them.
This year saw the release of the first Peatbog Faeries album that I've been involved with and that was an excellent time. I've also finally recorded an album with Tom Oakes after quite a few years playing together.
As well as all that there's nothing that makes me happier than doing a fired up gig here at home.
What are your plans for the future?
I'm heading to Mexico with the Peatbogs in late November for some gigs which is a place I'm really looking forward to visiting.
After that we'll be heading straight to the Trad Awards for our gig there, and some craic of course!
We'll be appearing at the Edinburgh Hogmanay celebrations and then in January at Celtic Connections in Glasgow.
It's the 25th anniversary of the band so we'll be doing a whole series of gigs next year to celebrate that.
For the duo the plan is to finish mixing the album in the remainder of this year and then release it in the new year and tour it.
I also play in a trio with Peter Morrison and Seumas MacLennan. We'll be recording towards the end of this year and into next year with touring happening after that.
With these things and a plan to record an album with my brother Ryan Couper it looks like next year will be pretty busy!
Read more about Ross Couper
http://www.rosscoupermusic.com
Facebook: http://www.facebook.com/rosscouperfiddle
Twitter: http://www.twitter.com/RossCouper
If you would like to come along to the MG ALBA Scots Trad Music Awards in Dundee's Caird Hall call the Caird Hall box office on (01382) 434940 or buy online.