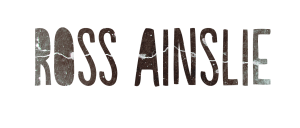 Congratulations to Ross Ainslie who have been nominated in Composer of the Year sponsored by PRS for Music in the MG ALBA Scots Trad Music Awards 2015. Vote now!
We asked Ross Ainslie of Ross Ainslie the following questions.
Tell us about yourself
Ross Ainslie is one of Scotland's finest traditional musicians and composers, playing pipes, whistles and cittern. He is renowned for his highly acclaimed solo material, and as a skilled performer and prolific collaborator who performs regularly with bands Treacherous Orchestra – of which he is a founding member – Salsa Celtica, Dougie Maclean, Charlie Mckerron, India Alba, and with Jarlath Henderson.
Born in Perthshire in 1983, Ross began his career as a member of the Perth and District Pipe Band, before joining the Grade 1 Vale of Atholl Pipe Band, where he was mentored by piper Gordon Duncan. Hugely influenced by Gordon's fearlessly innovative spirit and groundbreaking compositions, Ross began exploring his own abilities as a composer and writing his own tunes, and in 2002 he was a finalist in the prestigious BBC Radio Scotland Young Traditional Musician of the Year competition.
Ross is a founding member of the 13-piece musical powerhouse Treacherous Orchestra. In April 2015, they received a prestigious nomination for the Scottish Album of the Year Award longlist for their second album Grind. He's also a member of world/trad fusion group Salsa Celtica and Indian-Scottish quartet India Alba. Ross also writes and performs with Irish Uilleann piper Jarlath Henderson. The pair have released two critically acclaimed albums which showcase their groundbreaking fusion of Border and Uilleann pipes – Partners in Crime (2008) and Air-Fix (2013).
In 2013, Ross released his first solo record, Wide Open, which offers a snap-shot into his rich musical influences. It was nominated for Album of the Year at the Scots Trad Music Awards in 2013 and made the top 10 of the Sunday Herald's Top 50 Scottish Albums of 2013 list (no.9).
In 2015 Ross was commissioned by Celtic Connections to compose a new work for its prestigious New Voices strand. The piece – Remembering – saw Ross turn his hand to songwriting, in addition to writing new tunes, drawing on past experiences and relationships which have influenced him both musically and personally.
A highly in-demand musician, he has joined an array of acclaimed bands and musicians on tour and in the recording studio – including recording as one third of trad collective Tunebook, plus tours with Gordon Duncan, Flook and Ivan Drever's band Clueless, and a special guest spot on Shooglenifty's The Untied Knot.
In a career with many highlights so far, Ross continually pushes new musical boundaries. Prestigious industry recognition has come in the form of a multitude of award nominations, including a nomination for Musician of the Year at the BBC Radio 2 Folk Awards (2013) and again in 2014 with Jarlath Henderson in the Best Duo category. He's also received nods at the Scots Trad Music Awards with various nominations in the Best Instrumentalist, Best Live Act and Best Album categories.
Exciting projects on the horizon include the recording of his New Voice piece Remembering for an album of the same name which is due to be released late summer 2015, and aspirations to follow its release with a series of live dates with the New Voices band.
Why are you involved in Scottish music?
I'm involved with Scottish music because its the music that excites me the most. I love the freedom you have to experiment, its really social and its very honest music.
Any particular career highlights?
2006 Celtic Connections playing in Cuillin Music on the Martyn Bennett day.
2009 Glasgow Green, Proms in the Park with Salsa Celtica
2012 Battersea Park, London Olympics with Zakir Hussain.
2013 Hyde Park, London BBC Radio 2 Festival in a Day with Treacherous Orchestra
2015 Celtic Connections playing with the GRIT Orchestra.
What are your plans for the future?
I plan to record a solo pipe album and start looking into doing my own gigs!
Read more about Ross Ainslie
http://www.rossainslie.com
Facebook: https://www.facebook.com/Ross-Ainslie-116041585175630/
Twitter: http://www.twitter.com/
If you would like to come along to the MG ALBA Scots Trad Music Awards in Dundee's Caird Hall call the Caird Hall box office on (01382) 434940 or buy online.