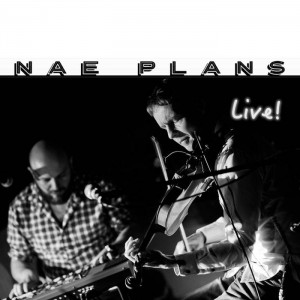 Congratulations to NAE PLANS who have been nominated in Live Act of the Year sponsored by Greentrax in the MG ALBA Scots Trad Music Awards 2015. Vote now!
We asked HAMISH NAPIER of NAE PLANS the following questions.
Tell us about yourself
Hamish Napier (Back of The Moon, Man's Ruin) and Adam Sutherland (Treacherous Orchestra, Session A9) join forces in this exciting dare-devil duo project. The concept originally was to record an album that was strictly unrehearsed, capturing the duos' raw creativity and demonstrating their outstanding musical intuition. Now a live show, the performances highlight every nuance, displaying a kind of electricity and excitement by the off-the-cuff nature. Each performance is unique and demonstrates the incredible talent of two of Scotland's foremost musicians.
***** '… marvellously organic and intensely alive, terrifically accomplished and thrillingly unpredictable'
– Sue Wilson, The Scotsman
Why are you involved in Scottish music?
We're in it for the money….KIDDING!!!!!
What drives each of us is our sheer LOVE for traditional music: its heritage, stories, identity, structures and forms, places and settings, integrity, diversity, and seemingly limitless possibilities for expression and continual evolution. But most of all folk music is about the people, the interaction between musicians, listeners and the people who work in the industry. Its such an exciting time for the genre.
Any particular career highlights?
Our first ever performance at the tutors concert at Boston Harbour Fiddle School in 2012 was what prompted the whole concept of Nae Plans – we were completely overwhelmed by the extatic response we got from the audience! It was a huge honour to be invited to Cape Breton's 'Celtic Colours Festival 2014 to share and perform our original compositions with some of Canada's leading folk musicians. Other highlights include selling-out the Glasgow Folklub twice, and making short films performances in the unusual places such as the Italian Chapel and the enormous Lyness Oil Tank in Orkney, Culloden Moor, and the Camera Obscura World of Illusions exhibit in Edinburgh, during our annual Scottish tours.
What are your plans for the future?
We have over 14 full concerts worth of recorded live material from last years Scottish tour, and plan to release a live album in 2016 of our choice picks from the gigs! More info here:
https://naeplans.bandcamp.com/album/live
We are already planning the next annual Scottish tour for autumn/winter 2016. On the tour we also hope to provide more daytime workshops to local musicians to share the fun 'Nae Plans approach' to performing.
Read more about NAE PLANS
http://www.naeplans.co.uk
Facebook: http://www.facebook.com/NaePlans
Twitter: http://www.twitter.com/naeplans
If you would like to come along to the MG ALBA Scots Trad Music Awards in Dundee's Caird Hall call the Caird Hall box office on (01382) 434940 or buy online.