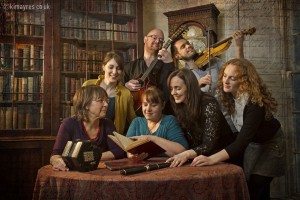 Congratulations to Macmath: The Silent Page who have been nominated in Community Project of the Year sponsored by Gordon Duncan Memorial Trust in the MG ALBA Scots Trad Music Awards 2015. Vote now!
We asked Alison Burns of Macmath: The Silent Page the following questions.
Tell us about yourself
William Macmath from Dumfries and Galloway was the Scottish researcher and song collector working for Francis Child (USA) contributing songs for publication in what became the Child Ballads. In this project some of the best trad musicians of D and G (Emily Smith, Robyn Stapleton, Wendy Stewart, Aaron Jones, Claire Mann, Jamie MacClennan) paired up with The Feral Choir, a local community choir, to sing back to life a book of local songs written down by Macmath – some of the songs included are unique to the project have never been published before.
Why are you involved in Scottish music?
This project speaks so loudly of all the reasons that I love Scots music – these songs resonate through the centuries and open up the past in such a vivid way. It's wonderful to be singing the songs that thread through the landscape you live and work in.
Any particular career highlights?
The highlight of the project was performing an acoustic version of the concert in Broughton House, Kircudbright. It was a really special day as we were surrounded by the books the songs came from and many of the letters written between William Macmath and Francis Child, in a place that's at the foot of the valley all the singers who contributed lived in. Macmath's Aunt Jean Webster who contributed 15 unique ballads to Child's collection lived within a stones throw of the performance.
What are your plans for the future?
We're going to launch the CD of the songs: Macmath: The Silent Page and produce a book of the songs as well as an online resource.
Read more about Macmath: The Silent Page
https://macmathsilentpage.wordpress.com
Facebook: http://www.facebook.com/
Twitter: http://www.twitter.com/
If you would like to come along to the MG ALBA Scots Trad Music Awards in Dundee's Caird Hall call the Caird Hall box office on (01382) 434940 or buy online.