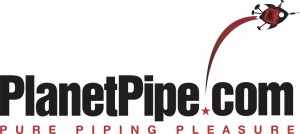 Congratulations to Lorne MacDougall's PlanetPipe who have been nominated in Trad Music in the media sponsored by Skipinnish in the MG ALBA Scots Trad Music Awards 2015. Vote now!
We asked Lorne MacDougall of Lorne MacDougall's PlanetPipe the following questions.
Tell us about yourself
PlanetPipe was originally set up as an online radio show in 2005 by Uist Media (now Bees Nees), it went through many different guises between then and now and has since 2009 become a podcast available online and also broadcast throughout the world on local radio stations. It's a twice monthly show featuring a special guest in a uniquely relaxed interview format accompanied by tracks from new releases, topical artists and classic tracks from the piping world, in it's unique, open minded way.
Why are you involved in Scottish music?
I love letting people hear the great music in the trad scene today on the show, pipers often enjoy the recommendations from the wider folk scene that they may be unaware off until PlanetPipe lets them hear them.
Any particular career highlights?
Recent favourite interviewees include chatting over a pint with Titanic and Braveheart's piper Eric Rigler, musician and producer Jim Sutherland's thoughts on recording bagpipes and chilling on the beach with Battlefield Bands' Mike Katz.
What are your plans for the future?
Continuation of the same thing! More guests, more listener interaction and new T-Shirts!
Read more about Lorne MacDougall's PlanetPipe
http://www.planetpipe.com
Facebook: https://www.facebook.com/PlanetPipe-113961395349439/?fref=ts
Twitter: http://www.twitter.com/lornemacd
If you would like to come along to the MG ALBA Scots Trad Music Awards in Dundee's Caird Hall call the Caird Hall box office on (01382) 434940 or buy online.