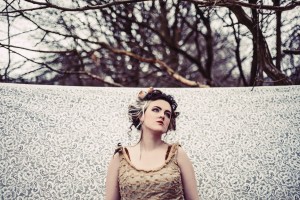 Congratulations to Kate in the Kettle who have been nominated in Folk band of the Year sponsored by Threads of Sound in the MG ALBA Scots Trad Music Awards 2015. Vote now!
We asked Kate Young of Kate in the Kettle the following questions.
Tell us about yourself
Kate in the Kettle is lead by Scottish musician and composer, Kate Young. She is also known for her work in the fiddle-singers quartet "Carthy, Oates, Farrell & Young" (formerly "Carthy, Hardy, Farrell & Young), and also Moulettes. With a firm grounding in folk and traditional music in Scotland and around the UK, Kate has been inspired to develop her knowledge this, whilst combining it with songwriting and fiddle-singing techniques.
The band formed in Newcastle whilst Marit Fält, Victor Solana and Kate were studying music at the same time, and pooled together tune repertoires of Scandinavia, and Indian tabla techniques and so on, to form quite a unique sound. Swimmings of the Head was released on the 10th October, 2014, engineered and produced by Andy Bell.
Today Kate can be seen performing live with a varying line-up of musicians, including Francesca Ter-Berg on cello.
(Speaking of their debut album, 'Swimmings of the Head' )
"Its success lies in the musicans' understanding that there are often more similarities than differences between traditions and it's this which has enabled Kate and her collaborators to produce one of the most highly listenable and finely-balanced experimental albums of the year." – Folk Radio UK.
Why are you involved in Scottish music?
Kate was born and raised close to Edinburgh and from a young age took part playing fiddle in many trad music groups and events aimed at young people such as 'Edinburgh Youth Gaitherin' ' and 'Tinto Summer School'. She later went on to learn about and combine her music with other styles, but it was this initial interest in Scottish traditional music that set the foundations of her career, and desire to share her native traditional music as travelled the globe.
Any particular career highlights?
(Kate) "Being involved in the 'Ethno' movement has been a really enriching and musically diversifying experience for my career in general. It is something which happens in different countries, where musicians come from all over the world to meet and teach eachother traditional musics from wherever they come from. As a result, I have learned a lot about different traditional musics, and you start to notice the similarities and the differences between them.
It is this wealth of world-influences I have brought into and distilled within my music, and has helped me reflect on what sets our Scottish tradition apart from others, and which parts it shares.
Perhaps one particular highlight was singing for the opening concert of the Woodford Folk Festival in 2011 for about 24,000 people as part of the first edition of Ethno Australia."
What are your plans for the future?
I am really interested in writing music for string quartet combined with my songs. I will have a concert (New Voices) at Celtic Connections on January 31st where I have written new music for string quintet, harp and percussion.
Read more about Kate in the Kettle
http://www.kateyoungmusic.com
Facebook: http://www.facebook.com/kateinthekettle
Twitter: http://www.twitter.com/kateyoungmeaw
If you would like to come along to the MG ALBA Scots Trad Music Awards in Dundee's Caird Hall call the Caird Hall box office on (01382) 434940 or buy online.