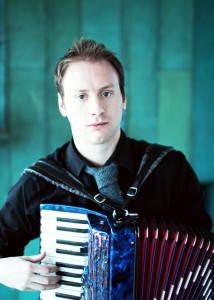 Congratulations to John Somerville who have been nominated in Music Tutor of the Year sponsored by Creative Scotland Youth Music Initiative in the MG ALBA Scots Trad Music Awards 2015. Vote now!
We asked John Somerville of John Somerville the following questions.
Tell us about yourself
I am a musician, teacher, composer and producer working in the thriving Scottish and traditional music scenes. I have many years experience in teaching and playing music and have had the pleasure of passing on my skills to many people, young and old across the country. Organistaions I have worked for include Feis Rois, Falkirk Traditional Music Project, RCS and Folkworks. I currently play and perform with several bands including Treacherous Orchestra, the Cask Strength Ceilidh band and elector folk outfit Halcyon.
Why are you involved in Scottish music?
To be part of the evolution of a vibrant, energetic scene and the renaissance in our culture and heritage. To achieve the buzz of playing live whislt also allowing time to pass my skills on to others so they too can feel the brilliant energy and positivity thats associate with this scene.
Any particular career highlights?
Playing Hyde Park with Treacherous Orchestra. Working with young people in Australia, Canada to perform my own compositions.
What are your plans for the future?
To keep playing and performing live who;st also allowing time to pass on my skills to others.
Read more about John Somerville

Facebook: https://www.facebook.com/johhsomervillemusic/?fref=ts
Twitter: http://www.twitter.com/
If you would like to come along to the MG ALBA Scots Trad Music Awards in Dundee's Caird Hall call the Caird Hall box office on (01382) 434940 or buy online.