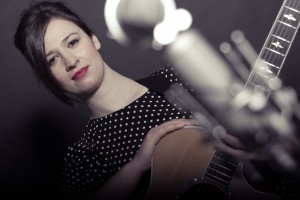 Congratulations to Jenn Butterworth who have been nominated in Music Tutor of the Year sponsored by Creative Scotland Youth Music Initiative in the MG ALBA Scots Trad Music Awards 2015. Vote now!
We asked Jenn Butterworth of Jenn Butterworth the following questions.
Tell us about yourself
I'm a guitarist and singer, who has worked in the Scottish music scene for the last fifteen years. Based in Glasgow, I've played in a lot of bands and regularly collaborate with different musicians. I've worked on a lot of great folk music projects including New Voices, album recordings and recently the Songs of Separation project with nine other female folk artists from the UK. I also run a community choir called the 'Hidden Lane Choir'.
As a folk music tutor, I began teaching when I left school, running a project called the 'Folk Bus', collaborating with the team at the Living Tradition magazine to deliver workshops to schools encouraging students to become involved in traditional music. Through my time at university I taught workshops at festivals, and when I graduated I began working extensively for Fèisean nan Gàidheal, visiting schools all over Scotland teaching group work, children's song and tin whistle. Over the past few years I have worked with a range fantastic projects including Glasgow Fiddle Workshop, Horsecross Arts, Aberdeen International Youth Festival, Live Music Now and Enterprise Music Scotland. In 2008, I began working with Phil Cunningham and the students at the Royal Conservatoire of Scotland, creating music, leading rehearsals and organising concerts. I started work as 'Lecturer in Practical Studies' at the Conservatoire in 2010, and absolutely love teaching group work, guitar and a variety of other skills and generally supporting the students and staff.
Why are you involved in Scottish music?
Folk music was a big part of my upbringing. In Dumfries & Galloway, where I grew up, my parents ran a number of folk festivals and session weekends. Our family holidays were always folk music orientated, so my involvement in the folk music scene has just been a natural part of my life for as long as I can remember.
I love playing the tunes and songs; our music has a connection to real people, places and stories. I also love collaborating and connecting with other people, whether it's teaching, performing or sessioning. Everyone can get stuck in, from beginner classes and family ceilidhs to huge folk sessions and amazing concerts.
Any particular career highlights?
Working at the Conservatoire has been a big teaching highlight for me. It's a pleasure to work with an amazing team of tutors and students. In my performing career, I have really enjoyed working with a long list of fantastic artists. My most recent highlight would probably be playing guitar for Phil & Aly and the RSNO – we'll be performing in the Glasgow Royal Concert Hall on 28th November. Also, I'm particularly excited about recording an album in the near future with mandolinist and singer Laura-Beth Salter.
What are your plans for the future?
I feel like I've been in a whirlwind for the last few years, balancing a portfolio career. I want to continue to improve my teaching skills, working with different groups of people making sure I find new ideas and ways to inspire people. I want to create more new music, and bring my skills to new projects and collaborations.
Read more about Jenn Butterworth
http://www.jennbutterworth.co.uk
Facebook: http://www.facebook.com/
Twitter: http://www.twitter.com/jennbutterworth
If you would like to come along to the MG ALBA Scots Trad Music Awards in Dundee's Caird Hall call the Caird Hall box office on (01382) 434940 or buy online.