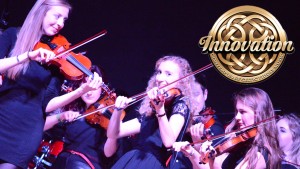 Congratulations to Innovation who have been nominated in Up and Coming Artist of the Year sponsored by Royal Conservatoire of Scotland in the MG ALBA Scots Trad Music Awards 2015. Vote now!
We asked Alistair McCulloch of Innovation the following questions.
Tell us about yourself
Formed by renowned Scottish Fiddler and Composer Alistair McCulloch and Traditional Music Director and Educator Blair Parham, Innovation is a highly energised group of 20 young musicians.
With an age range of 18-25 the group plays contemporary fiddle music from around the world. Recently reinventing itself with a new, dynamic look and sound, Innovation are pushing the boundaries of what is possible with ensemble fiddling.
Much of the music has been composed by Alistair himself and whilst Celtic music is the mainstay of the group, Innovation also has in its repertoire pieces from Eastern Europe, Spain, Finland, Norway and North America.
A powerful fiddle front-line is complemented by cello and accordion, whilst the driving back-line comprising percussion, guitar & bass underpins the overall sound. Occasional tracks include whistles. Innovation are soon to release an EP of their music.
Recent festival appearances have included Celtic Connections, The Scots Fiddle Festival and The Merchant City Festival.
Why are you involved in Scottish music?
We have a shared passion for traditional styles of music performed in contemporary ways to engage and entertain people of all ages.
All of us grew up performing and listening to Traditional Scottish music, so it was inevitable that we became involved in this genre in some way.
Feeling the energy from the audience gives us an amazing buzz on stage and a realisation of how fortunate we are to be able to share our passion with others.
Any particular career highlights?
This past year saw us perform at Celtic Connections where we received great reviews: "imaginative arrangements, sonic variation and momentous vigour" – Rob Adams, The Herald.
Being part of such an amazing event, allowed us to rub shoulders with amazing acts from around the world: something we'd love to experience more of!
And of course, being Nominated for the 2015 Scots Trad Awards Up and Coming Artist!
What are your plans for the future?
We hope to broaden our experiences and perform to new audiences who haven't heard or seen Innovation before, wherever they may be.
We'd love to perform at other festivals and events in and around Scotland or further afield and are in discussions to do just that.
We are soon to release our EP and hope to record more tracks soon.
Read more about Innovation
http://fiddleinnovation.com
Facebook: http://www.facebook.com/FiddleInnovation
Twitter: http://www.twitter.com/innovfiddle
If you would like to come along to the MG ALBA Scots Trad Music Awards in Dundee's Caird Hall call the Caird Hall box office on (01382) 434940 or buy online.