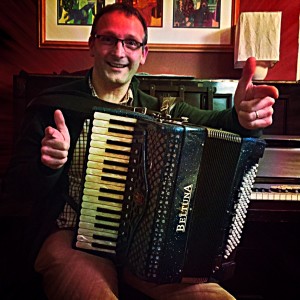 Congratulations to Ian Lowthian who have been nominated in Music Tutor of the Year sponsored by Creative Scotland Youth Music Initiative in the MG ALBA Scots Trad Music Awards 2015. Vote now!
We asked Ian Lowthian of Ian Lowthian the following questions.
Tell us about yourself
I am an accordionist who for the past 30 has served the traditional music scene as a performer, composer and tutor. Since graduating from the R.A.M. in London, where (because of a lack of Traditional Music Degrees in those days) I studied Free Bass Accordion, I have dedicated my career to traditional music, particularly the teaching of it!
Why are you involved in Scottish music?
I'm involved with Scottish music because my dad played the accordion and my mum the piano, so have grown up through the tradition. I had great encouragement from both my parents who enabled me to study with the best! I'm still involved with it because it's so infectious and I love seeing everyone else enjoy it whenever and however I pass it on! I also get a buzz when I add a new tune to the tradition, then I feel like I'm part of it and it's part of me!
Any particular career highlights?
Possibly not the most prestigious gig but certainly one of the highlights was when I was asked to compose some music for a bunch of kids from the Borders to be performed at the 02 Arena when it was newly opened. This put my conducting skills to the test! Wait! perhaps I'm getting confused with the most nail biting gig, oh no, that was when Catriona Macdonald and I were invited to play at Clarence House for the Queen, oh no, wait a minute, that was most prestigious gig.
What are your plans for the future?
Well, as I am very happy with everything I'm doing just now, teaching in the schools, leading workshops, performing a bit and doing the odd piece of composition now and then, I'm hoping I can keep doing this until the big accordion club in the sky is ready for me. I think everyone else around me would like me to spend a bit more time doing some recording and promoting my music but there just doesn't seem to be time for that! Perhaps when I retire!!
Read more about Ian Lowthian
http://www.ianlowthianaccordionweekends.com
Facebook: https://www.facebook.com/ian.lowthian.5
Twitter: https://twitter.com/LowthianIan
If you would like to come along to the MG ALBA Scots Trad Music Awards in Dundee's Caird Hall call the Caird Hall box office on (01382) 434940 or buy online.