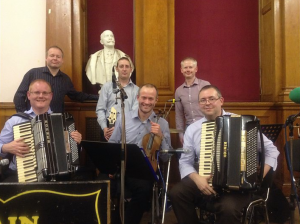 Congratulations to Iain Cathcart and his Band who have been nominated in Dance band of the Year sponsored by National Association of Accordion and Fiddle Clubs in the MG ALBA Scots Trad Music Awards 2015. Vote now!
We asked Iain Cathcart of Iain Cathcart and his Band the following questions.
Tell us about yourself
Iain Cathcart and his Band have been at the forefront of Scottish Dance Music for over 20 years and are renowned for their distinctive style, musicality and thoughtful arrangements of many out of genre items away from traditional marches, jigs and reels.
The band line up consists of Iain Cathcart and James Coutts on accordion, Alistair McCulloch on fiddle with the solid backline of Graham Berry, Mark MacDougall and Scott Gordon on piano, bass and drums respectively.
The band has retained the same personnel since 1995 and in this period has recorded half a dozen critically acclaimed CDs together with some 16 Take the Floor broadcasts for BBC Radio Scotland.
Iain and his band have featured at all the country's top Scottish Dance Music Festivals with multiple appearances at Shetland Accordion & Fiddle Festival, Orkney Folk Festival, Perth Festival and the NAAFC Festival.
They can be found very much to the fore on the circuit, playing mainly at dances, ceilidhs and Accordion and Fiddle Clubs across the country.
A short montage of music and photos can be viewed at:

Why are you involved in Scottish music?
Scottish traditional music has been in Iain's family all his life with his Grandfather Neil McNicol of Conisby, Islay being Pipe Major of the Singer Pipe Band in the early years of the last century and latterly PM of the Islay Pipers.
That love of pipe music and traditional Scottish Dance Music has been passed through Iain's family and give both Iain and the other band members a great deal of pleasure when they get together for a tune.
"The thrill of playing in a six piece band and hearing your own arrangements being transformed from dots on a page to a unique sound that listeners and dancers gain pleasure from is an amazing feeling."
Scottish Dance Music is a fantastic platform for players of all ages and abilities. It is a great fun thing to be involved with and the band have made many life-long friendships along the way.
Any particular career highlights?
Obviously being nominated in this year's Dance Band of the Year category at the Trads is a high spot for the band.
Other highlights include being asked to record special themed programmes for Take the Floor in recent years. The first of these programmes being to celebrate the Diamond Jubilee of HRH Queen Elizabeth II. The entire show being arranged comprising tunes with a royal theme or title.
The band were also delighted to record a Take the Floor session in front of an invited audience in Dunecht Hall, Robbie Shepherd's home-town alongside Alastair McDonald, Gordon Pattullo, Gemma Donald, Darren Maclean and Hamish Napier.
Moving away from the usual format of dancing, Iain arranged an entire programme of tribute medleys to the greats from the days of Scottish Variety Theatre, including Andy Stewart, The Alexander Brothers, Harry Lauder,and Joe Gordon.
Musical excursions to Tallin, Florence and Dubai also live long in the memory of the boys.
What are your plans for the future?
Through Iain's work with the National Association of Accordion and Fiddle Clubs the band are committed to the promotion of Scottish Dance Music and Bands to a wider audience and sustain the movement by fostering younger musicians who will make Dance Bands of the future.
Iain along with his wife Shirley and other band members organise and run the annual Stanley Ceilidh in Perthshire held on the first full weekend in November each year. The Ceilidh encourages youngsters to have a tune on stage with some more "seasoned" musicians helping to provide a similar type of opportunity from which the band have benefited over the years themselves.
Read more about Iain Cathcart and his Band
http://www.iaincathcart.com
Facebook: https://www.facebook.com/iaincathcartband/?fref=nf
Twitter: https://twitter.com/CathcartIain
If you would like to come along to the MG ALBA Scots Trad Music Awards in Dundee's Caird Hall call the Caird Hall box office on (01382) 434940 or buy online.