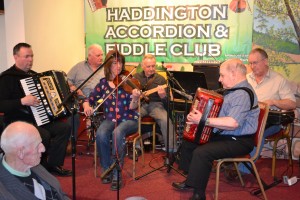 Congratulations to Haddington Accordion & Fiddle Club who have been nominated in Club of the Year sponsored by Trac Scotland in the MG ALBA Scots Trad Music Awards 2015. Vote now!
We asked Audrey Podlinski of Haddington Accordion & Fiddle Club the following questions.
Tell us about yourself
Haddington Accordion & Fiddle Club was started in January 2000 by Bobby Colgan and the late great Jim Johnstone in The Railway Hotel. Since then we have gone from strength to strength. We have had many great names appearing as guests each month – Duncan Black, Robert Black, Ewan Galloway, Liam Stewart, Tom Orr, Clappy Doo, Brandon McPhee, Marion Anderson, Gold Brothers & The Lomond Ceilidh Band to name but a few. Of course the club wouldn't be such a success if it wasn't for the audience & players that support us each month. We have also won Club of the year from The Box & Fiddle twice (including this year).
Why are you involved in Scottish music?
Bobby Colgan has been involved in the Scottish music scene for more than sixty years playing in many of the great Scottish dance bands and his knowledge and contacts have been invaluable to the club.
Any particular career highlights?
For the club it would be winning Club of the year twice from the Box & Fiddle. Also being nominated in The Trad Awards twice. Just being part of a very popular club that people love to come back to for a great afternoon and sometimes into the evenings as well.
What are your plans for the future?
Unfortunately this is our last season at The Railway Hotel as Hamish Colgan the Proprietor is retiring. As yet there are no plans for the club to continue.
Read more about Haddington Accordion & Fiddle Club
http://www.railwayhotelhaddington.com
Facebook:
Twitter: http://www.twitter.com/
If you would like to come along to the MG ALBA Scots Trad Music Awards in Dundee's Caird Hall call the Caird Hall box office on (01382) 434940 or buy online.