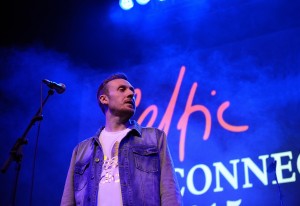 Congratulations to Griogair who have been nominated in Gaelic singer of the Year sponsored by Macmeanmna in the MG ALBA Scots Trad Music Awards 2015. Vote now!
We asked Griogair Labhruidh of Griogair the following questions.
Tell us about yourself
Having released two critically acclaimed albums, Griogair is widely considered by both fans of Scottish Gaelic music and academics alike to be one of the finest exponents of old style (sean-nòs) traditional Gaelic song and has toured all over the world with his music.
Griogair is a member of the legendary Afro Celt Sound System and has this year, for the first time, brought Scottish Gaelic material to the world music scene with a bang. This includes both original/traditional Gaelic song, piping, giutar and of course his Gaelic rap.
One of the most controversial and engaging performers in the Highland music scene; he is openly political as an advocate of Scottish independence and the revival of the 'colonised' traditions of Gaelic Scotland. His original rhymes and music which are based in the ancient bardic traditions of the filidh/aos-dàna warrior poets are also deeply spiritual being based in the pre-Christian tradition of his ancestors.
Why are you involved in Scottish music?
Griogair was born into a long line of pipers on both sides of his family which includes reciters of the ancient Ossianic material handed down over generations and several of the most well known composers of highland bagpipe music. He was brought up surrounded by piping from his father and connected naturally to the Gaelic song tradition through mentors such as Ailean Dòmhnallach.
He has musical roots throughout North West Argyll/South Lochaber but perhaps more famously in his now native Ballachulish where his family are still the most prolific tradition bearers in the area in what was until relatively recently a Gaelic stronghold.
Linguistically he is the last exponent of a mainland Scottish dialect and song tradition in the country.
Any particular career highlights?
Griogair starred in the 2005 critically acclaimed feature movie 'Joyeux Noel' as a 1st World War pipe Major. The film was later nominated for an award at the Cannes Film Festival where he played the pipes up the famous red carpet.
As well as his current Afro Celt Sound System, Griogair has also performed with Shooglenifty, Karen Methieson, John Spillane and many other established acts in the Scottish and Irish music scene. As lead singer for Dàimh he contributed to the highly acclaimed album 'Tuneship' and has performed in front of thousands with his Gaelic rap/Afro Gaelic music.
What are your plans for the future?
Griogair plans to write record and produce an album of new Gaelic music displaying his MC/DJ and production skills. Currently working under the title 'GhettoCroft' this work will showcase Griogair's ideas on the connections between African American traditions and the true, old Gaelic style of Scotland.
Next year will see him tour extensively throughout the globe with Afro Celt Sound System, showcasing Scottish Gaelic music to an audience who have perhaps never heard of the tradition before.
Read more about Griogair

Facebook: http://www.facebook.com/griogairmusic
Twitter: http://www.twitter.com/ghettocroft
If you would like to come along to the MG ALBA Scots Trad Music Awards in Dundee's Caird Hall call the Caird Hall box office on (01382) 434940 or buy online.