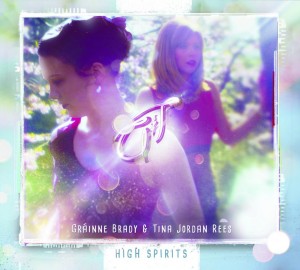 Congratulations to Gráinne Brady & Tina Jordan Rees who have been nominated in Up and Coming Artist of the Year sponsored by Royal Conservatoire of Scotland in the MG ALBA Scots Trad Music Awards 2015. Vote now!
We asked Tina Rees of Gráinne Brady & Tina Jordan Rees the following questions.
Tell us about yourself
"It's very rare you hear something that makes you go: 'Wow! That's totally original.'"
Dick Gaughan, 2014
Gráinne Brady & Tina Jordan Rees are an exciting and original fiddle and piano duo from Cavan and Lancashire who are based in Glasgow.
The pair first met in a session at the Ben Nevis Bar in 2011. They formed the duo in 2012 and have since gone on to record an EP (2013) and a debut album 'HIGH SPIRITS' (2015) and have been performing across Scotland, Ireland and England.
G&T perform all of their own compositions, creating unique arrangements for piano and fiddle. More recently the pair have included flute and whistle into their sets as well as a spot of Irish step dance in their live shows.
Why are you involved in Scottish music?
We both come from a background in Irish music and have ended up living and working in Glasgow as musicians. There are many similarities between Irish and Scottish music and so it is great to have both influences in the music which we create together.
Any particular career highlights?
This year we have recorded our debut album HIGH SPIRITS and this is a particular highlight for us. We are very proud of what we have managed to achieve during a difficult year and the album has made us very happy.
We are absolutely delighted with this glowing review of the album by Rob Adams:
"Fiddler Gráinne Brady and pianist, flautist and whistle player Tina Jordan Rees met at a traditional music session in Glasgow in 2011 and this first full-length album suggests there was an instant rapport. They play together like siblings, possibly bonding on a shared immersion in Irish dance tunes and with a knack for writing new melodies in that idiom with a real spark of individuality and character. All the music here is their own and it showcases not just their instrumental prowess – Brady's fiddling nimble, strong and expressive; Rees's brightly percussive pianism being a particular asset – but also their talent for arrangement, ability to accompany each other and willingness to take ideas beyond traditional tune forms. The sequential 5/8s, Two Mad Cats and Week 15 are impressionistic and imaginative without losing touch with their roots and while guitar, double bass, bodhran and accordion are added here and there, the overall impression is of one mightily self-contained, superbly able duo."
What are your plans for the future?
We want to continue writing new music, creating new arrangements and most importantly keep enjoying what we do. We'd like to do more gigs as a duo and also as the G&T Big Band which formed for the album recording. Also it would be great craic to get sponsorship from a gin company! Any takers?
Read more about Gráinne Brady & Tina Jordan Rees
http://www.grainneandtina.com
Facebook: http://www.facebook.com/GrainneAndTina
Twitter: http://www.twitter.com/GrainneAndTina
If you would like to come along to the MG ALBA Scots Trad Music Awards in Dundee's Caird Hall call the Caird Hall box office on (01382) 434940 or buy online.