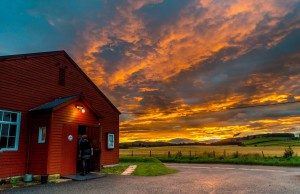 Congratulations to Glassel Hall who have been nominated in Venue of the Year sponsored by Musicians' Union in the MG ALBA Scots Trad Music Awards 2015. Vote now!
We asked Bryony Smith of Glassel Hall the following questions.
Tell us about yourself
Glassel Hall is a community hall which hosts regular gigs staged by a volunteer Glassel Gig committee, whose aim is to promote live music in our rural area in Aberdeenshire. We began hosting traditional music events in 2004 and these have evolved in recent years into the success that they are today. We like to plan the gigs individually and aim to make each one unique. A warm and friendly welcome, great hospitality, and first class sound all contribute to achieving as good a Glassel experience as possible for both performers and audience.
Why are you involved in Scottish music?
We are passionate about music of all kinds, and particularly enjoy traditional and folk music. Our main hobby and leisure time is spent finding and enjoying traditional and folk music by attending festivals and gigs all over Scotland and the UK. We felt that there was a dearth of venues in the N.E. of Scotland hosting the music we wanted to hear, and that Glassel was a perfect venue for this. The events have brought our local community and also a wider community of like-minded music lovers together, regularly, to enjoy traditional music in our own area. We get a real buzz from the feedback we get from the musicians about the acoustics and vibe in the Hall and the special atmosphere that always seems to be created by the Glassel crowd. We hope that we are helping to preserve and promote traditional live music and community gatherings.
Any particular career highlights?
We were flattered that Saltfishforty recorded their latest album live at Glassel Hall – a real honour for us.
… they also named one of their tunes "The Glassel Jig"!
Anna and Mairearad's "Doubling" album cover was photographed onstage at Glassel Hall.
The Glassel gigs have evolved to the extent that we are now hosting some of our longtime heroes … Blazin Fiddles, Boys of the Lough, Session A9 to name but a few… meaning some long-held ambitions have been realised.
We have also seen youngsters such as Anna Massie and Mairearad Green perform at Glassel as teenagers and subsequently flourish to become sought-after performers on the folk scene.
We are North-East, doric folk, so introducing live Gaelic music was a first; Daimh went down a storm at Glassel !
The sincere comments directed from the stage to the Glassel crowd this year have been humbling and emotive – to paraphrase:
• "we wish we could keep Glassel as our own secret!" Anna Massie;
• "it's incredible what you're doing here … every hall the length and breadth of Scotland should be opening their doors … please keep on supporting …" Bruce MacGregor;
• "Glassel is one of my favourite venues …" Kevin Henderson;
• " … I feel that Glassel is like a second home" Douglas Montgomery
These are just a few examples of post-gig comments from the Glassel crowd:
• "still buzzing .. we have seen some great bands at the amazing music venue that is Glassel Hall, but that was really special."
• "the place was on fire on Saturday night …"
• "fantastic evening, will keep going on about it for a long time. Thanks Glassel, you have done it again …"
• "there will be some rush for tickets next time these guys come to Glassel ! … beyond brilliant!"
• "it's my happy place .."
… and this year we witnessed the first ever standing ovation at an interval !!
What are your plans for the future?
• … although some long-held ambitions have been realised, we still have many more on our wish list for future gigs
• … to continue to try to make each gig we host special and unique
• … tae hud 'er gyan!
Read more about Glassel Hall

Facebook: http://www.facebook.com/
Twitter: http://www.twitter.com/
If you would like to come along to the MG ALBA Scots Trad Music Awards in Dundee's Caird Hall call the Caird Hall box office on (01382) 434940 or buy online.