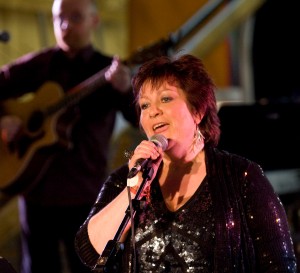 Congratulations to Fiona J Mackenzie who have been nominated in Gaelic singer of the Year sponsored by Macmeanmna in the MG ALBA Scots Trad Music Awards 2015. Vote now!
We asked Fiona J Mackenzie of Fiona J Mackenzie the following questions.
Tell us about yourself
Born on the East coast, I'm a Gaelic singer songwriter who is most proud of the fact that I've raised all my family to be Gaelic speakers and Trad musicians. I learned Gaelic as an adult and know what it takes- but its been the best thing I ever did in my life and I've made lifelong friends all along the way.It's a privilege to perform and teach in this musical sphere and I love to pass on my songs to the next generation, to anyone who wants to in fact! Up until this year, I've been based on Dingwall in the Highlands but since this summer, I have lived on the tiny island of Canna in the Small Isles, where I am lucky enough to have the privilege of looking after, promoting and developing and making accessible, the incredible Canna Collection of Archives, of Gaelic Song and Folklore, amasssed by folklorists John and Margaret Campbell ( Fay Shaw) in the early and mid 20th Century and now housed in Canna House. The island , the House and the Collections are now owned by the National Trust for Scotland. This is my Gaelic Song dream come true- Margaret's book "Folksongs and Folklore of South Uist" was my very Gaelic song book and has been my 'song bible' ever since.
Why are you involved in Scottish music?
I have been involved in Scottish music ever since I can remember. My father and my grandfather before him,were both lovely singers, my father a Scots singer and my grandfather, a classical tenor. As a teenager, I toured the Grampian folk scene with my father and listened to my granny playing Speyside fiddle and grandpa singing cornkisters at Hogmanay. Its been a way of life for me. Developing a career in Gaelic music was a natural progression for me and just felt 'right' from the first Gaelic song I learned. It is who I am and if I can use my voice to help other people, particularly young folk, access the Gaelic culture , find an identity or tell a story, then that makes me happy.
Any particular career highlights?
I worked for Highland Council as the Gaelic Song Fellow for nearly 10 years, which took to me some wonderful parts of the world and met some incredible tradition bearers and singers. Winning the Gold medal at the Royal National Mod in Stornoway 2005 was when I first began my recording career with Greentrax and I have released 3 albums with them since then. Since then I have been lucky enough to perform and teach in places such as New York, Washington DC, Nova Scotia, Carolina, Atlanta, Europe and Toronto. In 2009 I entered the Burnsong competition for new songwriting and was very surprised to win a place inthat years Songhouse! This was a pivotal point in my career and led to me becoming a member of Kilmarnock Edition, formed out of that Songhouse. My songwriting confidence increased though this and in 2014 I became the first Gaelic writer to achieve a Masters in Songwriting and Performance at the University of the West of Scotland. Also in 2013, I was privileged to work with the National Theatre of Scotland to produce a new piece of music theatre based around the Canna Collection, called "Little Bird Bown Off Course".
What are your plans for the future?
In 2016,I want to make an album based around my Masters project, basing it on , and using some of the songs from the Canna Collection. I hope to continue my teaching work, at home and Internationally, using the songs from the Canna Collection to encourage people to seek out the Old to produce the New. I am also developing a series of Song lectures based on the work of the Campeblls and will use this to promote the incredible Song, photographic and Sound Archives on Canna.
Read more about Fiona J Mackenzie
http://www.fionamackenzie.org
Facebook: https://www.facebook.com/fionajmackenzie
Twitter: http://www.twitter.com/gaelicsinger
If you would like to come along to the MG ALBA Scots Trad Music Awards in Dundee's Caird Hall call the Caird Hall box office on (01382) 434940 or buy online.