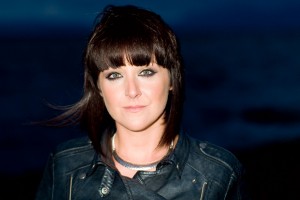 Congratulations to Fiona Hunter who have been nominated in Citty Finlayson Scots Singer of the Year sponsored by TMSA in the MG ALBA Scots Trad Music Awards 2015. Vote now!
We asked Fiona Hunter of Fiona Hunter the following questions.
Tell us about yourself
"Fiona Hunter is one of Scotland's foremost traditional singers and is fast garnering a reputation as a highly gifted song interpreter".
I began my singing career while completing her degree at the Royal Scottish Academy of Music and Drama (now Royal Conservatoire of Scotland), where I studied under the tutelage of highly revered singers Andy Hunter, Alison McMorland and Brian MacNeill.
In 2003 I undertook an internship at the illustrious Smithsonain Institute in Washington DC, home to decades of invaluable folklore study. Having developed a particular enthusiasm for the songs of the Scottish Travellers, I have worked with members of the Perth-shire based Stewart family, learning her craft first-hand from the last tradition-bearers of this celebrated folksong dynasty.
I have been singing as part of renonwed folk song group Malinky for over a decade. My time with the group have seen us win many accolades including the prestigious Folk Band of the year award at the 2010 MG Alba Scots Trad Music Awards. I have also been nominated three times in the Scots Singer of the Year category at the awards.
In 2014 I released my debut solo album, featuring songs from my native Glasgow and beyond. The recording features a cast of some of the finest instrumentalists currently gracing the traditional music scene, including Mike Vass, Matheu Watson, Euan Burton, Gillian Frame.
Some quotes:
Rob Adams, The Herald:
"arguably the leading singer of her generation in the Scots language"…
"She's at the forefront of the younger generation."
"Hunter's strengths lie in a vocal tone that she varies to suit the mood of the song while always sounding like the real deal and her ability to project a genuine empathy with the characters she's singing about."
Rob Adams – Review of album 'Fiona Hunter':
"Fiona Hunter's high quality as a traditional singer has been apparent through her work with the Scots band Malinky during the past decade, and this solo album underlines her ability to convey a wide range of song styles with feeling, sensitivity"and authority. She has a true traditional singer's voice
Jim Gilchrist, The Scotsman – Nae Regrets Review at Celtic Connections:
"There were moments of unexpected beauty – Fiona Hunter's vernacular Scots singing…
Kate Molleson, The guardian – Nae Regrets Review at Celtic Connections:
"Fiona Hunter belted out Move like a call to arms".
Alison Lawson, The Daily Record – Nae Regrets Review at Celtic Connection:
"From the first notes of the opening track, Move, a reworking of Ewan McColl's, 'Moving On Song' it was impossible not to be captivated, helped in no small part to the impressive contribution of Scots singer, Fiona Hunter taking on the role filled by Blairgowrie's Sheila Stewart".
Sue Wilson, The Scotsman:
"Best known as a member of Malinky, following in the formidable footsteps of Karine Polwart, Hunter proved her mettle immediately upon joining the band in 2005, and time has only continued to improve and enrich her singing […] delicately steeped in regret while emotively raw-edged, her voice at once firmly settled, or weighted, and dynamically fluid."
Why are you involved in Scottish music?
I am involved in Scottish music because it is my passion. I am hugely proud of our heritage and tradition and we must keep it alive for future generations!!
Any particular career highlights?
The highlight of my career this year was taking part in the Celtic Connections opening concert 2015 – 'Nae Regrets', a show dedicated to the remarkable Martyn Bennett, a full orchestration by classical violinist Greg Lawson.
I love the album Grit and was absolutely delighted when asked if I would sing "Move" from the amazing singing of Sheila Stewart and also "Blackbird" from my all time favourite singers – Lizzy Higgins.
Another highlight of 2015 was the release of Malinkys fifth album "Far Better Days". It was great to release a new album after many years.
I am also currently tutoring Scots Song at the Royal Conservatoire of Scotland, the UK's only Bachelor of Music degree dedicated to traditional and folk music. I love that I was once a student here and now I am a tutor here, it has gone full circle! I am sharing songs with students and passing on the Scots song tradition, just like my tutors did for me, I couldn't be happier.
What are your plans for the future?
Plans for the future… To carry on doing what I am doing! Living life as a musician, performing, touring and teaching and to also keep learning new things as well.
Lots of nice tours and gigs coming up and a few NEW projects in the pipeline!
I also hope to release a new solo album….
Read more about Fiona Hunter
https://www.fionahunter.co.uk
Facebook: https://www.facebook.com/fionahunter.co.uk
Twitter: https://twitter.com/fionahscotssong
If you would like to come along to the MG ALBA Scots Trad Music Awards in Dundee's Caird Hall call the Caird Hall box office on (01382) 434940 or buy online.