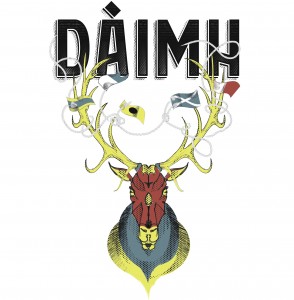 Congratulations to Dàimh who have been nominated in Folk band of the Year sponsored by Threads of Sound in the MG ALBA Scots Trad Music Awards 2015. Vote now!
We asked Ross Martin of Dàimh the following questions.
Tell us about yourself
In the year 2000, a craic musical unit was sent from Moidart to Mabou for a crime they didn't commit. These men promptly escaped from a maximum-security stockade to the Lochaber underground.
Today, still wanted by the government, they survive as pirates of puirt.
If you have a
problem… if no one else can help… and if you can find them… maybe you
can hire… Dàimh.
Why are you involved in Scottish music?
Mainly because all other types of music sound silly when sung in Gaelic and played on Bagpipes.
Any particular career highlights?
Our debut tour of the U.S. this was fairly epic and definitely this year's highlight. We launched our Island themed CD on Beaver Island in Lake Michigan which was an amazing place if you're as into crazy little islands as we are. We were also 3 miles up in Colorado, saw Niagra Falls, the big trees in California and many things in between.
Before our US trip we enjoyed our most successful Scottish tour ever during which broke in our fantastic new members; Yogi and Ellen and recorded the aforementioned CD on 3 different Hebridean Islands.
In addition to all that, last December we were crowned 'Best Folk Band in Europe' at the Folkherbst competition in Germany. All in all, there's been so much going on in the last 12 months we can barely remember anything previous.
What are your plans for the future?
We have a few tours and festivals lined up in Europe and the US next year but the most exciting plan is a World Record attempt involving remote Hebridean Islands.
Watch this space…….
Read more about Dàimh
http://www.daimh.net
Facebook: http://www.facebook.com/daimhmusic
Twitter: http://www.twitter.com/daimhmusic
If you would like to come along to the MG ALBA Scots Trad Music Awards in Dundee's Caird Hall call the Caird Hall box office on (01382) 434940 or buy online.