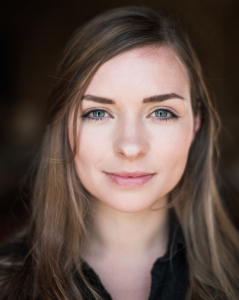 Congratulations to Claire Hastings who have been nominated in Citty Finlayson Scots Singer of the Year sponsored by TMSA in the MG ALBA Scots Trad Music Awards 2015. Vote now!
We asked Claire Hastings of Claire Hastings the following questions.
Tell us about yourself
Hastings' talents not just as a musician but as a compelling storyteller were obvious
(Miranda Heggie, The Herald)
I am a Scottish folksinger/songwriter/ukulele player originally from Dumfries, now living in Glasgow. This year I won the BBC Radio Scotland Young Traditional Musician of the Year award, which has brought some amazing opportunities.
I sing in various different line ups including with accompanist Jenn Butterworth, with my band Top Floor Taivers (Tina Rees, Gráinne Brady, Heather Downie) and in a duo with Robyn Stapleton, as well as performing solo. Robyn and I are part of the Live Music Now scheme, which allows us to perform for audiences that don't often get access to live music including care homes and day centres.
As well as performing, I am involved in several teaching projects throughout Scotland. I have been working with Fèis Rois providing traditional music tuition to primary schools across Dumfries and Galloway. It's great to see the younger generation get excited about Scottish music! For the last few years I have taught voice at The Gaitherin in Aberdeenshire, and I also assist with early years Colourstrings classes.
Why are you involved in Scottish music?
I have always had a passion for singing, and Scots song in particular. Scottish music brings people together and gives a sense of identity. I love that traditional songs are shared, as it's great when an audience can join in!
I was able to study Scottish music in depth at the Royal Scottish Academy of Music and Drama (now Royal Conservatoire of Scotland), where I was lucky enough to receive singing tuition from the wonderful Gordeanna McCulloch, Rod Paterson and Anne Neilson.
Any particular career highlights?
Winning the Young Traditional Musician of the Year award was definitely a highlight. Since then I have had the opportunity to perform at many high-profile events including the prestigious BBC Proms in the Park and BBC Music Day, at which I sang alongside Lulu, Jamie Cullum and Deacon Blue. I also performed with the Scottish Symphony Orchestra at both events, which was incredible.
What are your plans for the future?
Currently I am working towards my debut album; 'Between River and Railway', which will feature my own songs alongside traditional and contemporary folk songs. The album will be released in February 2016. I am organising a solo tour of New Zealand in April as well as an Scottish album tour in May. I am really looking forward to the year ahead!
Read more about Claire Hastings
http://www.clairehastings.com
Facebook: https://www.facebook.com/clairehastingsmusic/
Twitter: https://twitter.com/ClaireHastings1
If you would like to come along to the MG ALBA Scots Trad Music Awards in Dundee's Caird Hall call the Caird Hall box office on (01382) 434940 or buy online.