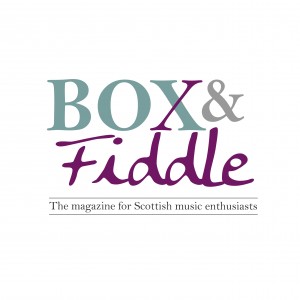 Congratulations to Box & Fiddle Magazine who have been nominated in Trad Music in the media sponsored by Skipinnish in the MG ALBA Scots Trad Music Awards 2015. Vote now!
We asked NAAFC / Pia Walker of Box & Fiddle Magazine the following questions.
Tell us about yourself
The Box & Fiddle Magazine is how Accordion & Fiddle Clubs, their members and others interested in Scottish music are kept informed, The magazine is now in its 38th year and has over the years developed from a humble circular with information to secretaries to today's exciting colour format with news not only about what has taken place in the previous months, but with articles, adverts, photos, news and listings of guest artistes and a monthly diary, sold nationally and internationally through clubs, subscriptions and retailers. The reuvenated magazine in its new format was launched in September 2014 and continues to grow both its readership and content. We aim to become the go-to magazine for all interested in our type of music.
Why are you involved in Scottish music?
The National Association of Accordion and Fiddle Clubs is a national association of clubs dedicated to Scottish traditional dance music. In approx. 70 clubs in Scotland and Northern parts of England, players and audience meet monthly to share their love of this type of music. The clubs are a valuable outlet for the fostering of new talent indeed many of todays great dance bands started out by playing in the clubs and new players are still coming up through the ranks by honing their stage presence at monthly club meetings. For dancers worldwide Dance Band Music is a very important partof life. If it wasn't for the music we wouldn't be able to dance. The NAAFC strives to keep this tradition alive and I as editor will do my utmost to work towards this too.
Any particular career highlights?
Seeing an increase of interest in Scottish Dance Band Music due to a new format magazine which appeals to a new audience as well as loyal readers.
Achieving substantially increased profits in under 9 months.
Being contacted by the 'Have I got News for You' production team.
Being nominated for this award.
What are your plans for the future?
Increasing the popularity of the magazine to also outwith the Club scene. Making the magazine the go-to magazine for Scottish Dance music. Continue to publish an exciting and modern magazine. Further Increase the international readership.
Read more about Box & Fiddle Magazine
http://www.boxandfiddle.com
Facebook: http://www.facebook.com/groups/320522168098764/
Twitter: http://www.twitter.com/
If you would like to come along to the MG ALBA Scots Trad Music Awards in Dundee's Caird Hall call the Caird Hall box office on (01382) 434940 or buy online.