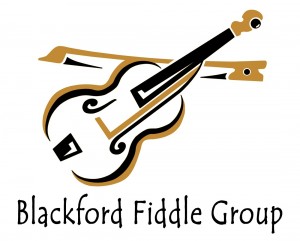 Congratulations to Blackford Fiddle Group who have been nominated in Community Project of the Year sponsored by Gordon Duncan Memorial Trust in the MG ALBA Scots Trad Music Awards 2015. Vote now!
We asked Andrew Bachell of Blackford Fiddle Group the following questions.
Tell us about yourself
Started in 1996 Blackford Fiddle Group is a community group of all ages and abilities that meets to play traditional music on fiddles and other instruments. Over the years we have had hundreds of members aged under 7 to over 70. Many have become expert players and everyone gains the confidence to play in public. We meet every Friday to learn and play tunes. We support people as they learn and to encourage them to help each other. We try to create an atmosphere that is stimulating but not intimidating.
We offer basic tuition, mainly supplied by our most proficient members and we also invite professional tutors to help us too. We believe strongly that everyone can learn and should set their own pace. We often play in public for a wide variety of events and to different audiences – from care homes to ceilidhs and concert halls. There are opportunities for all our players to perform, but without pressure and for fun. We raise most of our funds through playing gigs and have an excellent ceilidh band for hire. That is often where our young players really shine.
Most people enjoy playing music and many adults wish they had made more of opportunities when they were young. But all is not lost. We have discovered that you can learn at any age.
There is no fee to join BFG. It costs just 50p (under 18) or £1 on the weeks people come along. There are no tests or auditions and people do not need any previous experience. Reading music is not required although it is a useful skill along with learning by ear. So everyone is very welcome and we can even lend people fiddles.
Although we mainly a fiddle group we also have flutes, guitars, whistles, small pipes, harmonica, concertina, bass, bodhran, clarsach, cellos and occasionally other instruments.
Why are you involved in Scottish music?
Scottish music is the rooted in our communities and it is, or should be, accessible to players of a wide range of abilities and backgrounds. Traditional music bridges the generations and provides a context in which we avoid any sense of selection based on age, gender etc. It also has the huge advantage that it can be played in a wide variety of social contexts.
Many of our players also go to sessions or join in with other groups and so we share and exchange tunes and knowledge in a very traditional way. There is a feeling of being part of a much wider community. We also simply play for fun.
People have many personal reasons for learning to play, but half the point is about playing for other people. Our group plays in places from the kitchen to the pub, from the village hall to the big stage. Our audiences, no matter who they are, can both relate to and enjoy the music. Within the community, at concerts and in care homes, our music often provides valuable entertainment for people whose opportunities are restricted.
Many of our players visit festivals or sessions and building up a repertoire of Scottish music is a passport to involvement and invitations. There is a feeling that we are maintaining a tradition as well as simply enjoying ourselves.
Any particular career highlights?
We have had many highlights over the last 19 years. These achievements are summarised below.
• Playing live at over 600 events.
• Setting up a ceilidh band
• Always having more members than space to put them.
• Developing a school fiddle club in the local Blackford primary school, now a self-managed club run by the parents.
• To have written and published several music books for members, much in demand from other groups too.
• Production of a CD.
• Getting a great review in The Herald for our live performance at the Trad Music Awards in Perth. We were invited at 24 hours notice as most of Scotland was snowed in.
• By invitation attending a series of events at Perth's twin city in Poland in 2008.
• Celebration of every member's first stage performance.
What are your plans for the future?
• To keep going, by offering the sort of musical opportunity we believe everyone should have.
• To stick to our principles of inclusion, self-help and mutual support.
• To continue to attract more young and old fiddlers
• To reach a target of playing live at 1000 gigs.
• To develop the best community ceilidh band in the county.
• To have at least one member over 90 years of age.
• To take our under 18s to at least one workshop weekend each year.
• To enjoy a massive party / tour and produce a new CD to celebrate our 20th Anniversary in 2016.
Read more about Blackford Fiddle Group
http://www.blackfordfiddlers.org.uk
Facebook: http://www.facebook.com/
Twitter: http://www.twitter.com/
If you would like to come along to the MG ALBA Scots Trad Music Awards in Dundee's Caird Hall call the Caird Hall box office on (01382) 434940 or buy online.