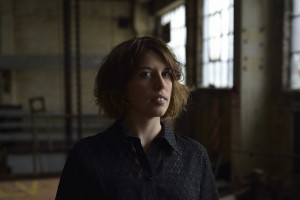 Congratulations to Bella Hardy who have been nominated in Folk band of the Year sponsored by Threads of Sound in the MG ALBA Scots Trad Music Awards 2015. Vote now!
We asked Bella Hardy of Bella Hardy the following questions.
Tell us about yourself
"Nothing short of a masterpiece." – The Sunday Times
5***** The Financial Times 5***** fRoots – "… a game-changer"
4* The Guardian 4* The Telegraph 4* Q Magazine – "… a credit to her and the genre"
Singer and fiddle player Bella Hardy's seventh solo album With The Dawn – her first since being named BBC Radio 2 Folk Singer Of The Year in 2014– isn't just the latest collection of songs from this prolific and ingenious artist. The album is an account of one year of her life. Where previously Bella has adapted and explored traditional ballads and fables to tell her contemporary folk tales, the stories that inspired these songs are her own experiences: good and bad, happy or sad.
With The Dawn is a more intimate and reflective album than before. Working with producer Ben Seal, the arrangements are more instinctive, more reactive, as befits the mind-set that informed the lyrics. Vivid brass gives way to lonesome piano; choral voices peal; banjos emerge out of beats and blips. Elements of the initial demos, sometimes recorded into a phone as the thoughts occurred, have been kept. Whatever instrument was nearest to hand was grabbed and deployed whenever and wherever (even on one occasion in the bath) giving With The Dawn its striking immediacy.
These are songs written on the road, full of that sense of displacement, longing and contemplation that all itinerant musicians know. This was a time for a turning-30 Bella where nothing was stable. Documenting that flux as an album was a way to make sense of it all. On With The Dawn, Bella Hardy's soaring kite-like voice is married to lyrics that poetically question everything she's seen and done up till now; letting go of expectations, both other people's and her own. But with closing lullaby And We Begin there's a light at the end… or rather the beginning.
Only one song didn't spring directly from Bella's year of touring and tumult. Jolly Good Luck To The Girl That Loves A Soldier was commissioned by Songs For The Voiceless, a project which gathered the country's best folk artists to sing some of the lesser known stories of World War I. The resulting album was one of many bold paths Bella Hardy's career has taken in recent years. From collaborating with Martin Simpson, John Smith and others on the hugely acclaimed Elizabethan Sessions, to a joint tour with Edinburgh miserablist Blue Rose Code, and an international songwriter exchange with Canada's Cara Luft who also guests on this album.
Bella grew up in Edale in the Peak District but now lives in Glasgow. Although the Hardy family sang in the local choir, it was a combination of her childhood love for ballad books and visits to local folk festivals that decided her future. At 13 she began performing at Cambridge and Sidmouth festivals and in 2004 reached the final of the BBC Young Folk Award, having taught herself to fiddle sing. Following a BA in English Literature and a Masters degree in Music, Bella released her debut album Night Visiting in 2007. One of its songs, Three Black Feathers was nominated for a BBC Folk Award. It was her first original composition.
Why are you involved in Scottish music?
Bella Hardy's first performance in Scotland was at the Cullerlie Traditional Singing Weekend in 2007. She's since moved to Scotland, living in Edinburgh for six years and now a resident of Glasgow. Whilst her desire to write and explore continues to develop fearlessly, her love of ballads and fiddle tunes keeps bringing her back to traditional music. In summer 2015, she toured as support for American Grammy Award singer Mary Chapin Carpenter, with her long time stage companion Anna Massie.
Any particular career highlights?
Bella was named BBC Radio 2 Folk Singer of the Year in 2014. It was her fifth nomination in the BBC Folk Awards; she also won the Best Original Song catagory for her ballad 'The Herring Girl' in 2012. She performed at the only ever Folk Prom in the Royal Albert Hall in 2008, and has just returned from Budapest where she performed in the Bela Bartok Hall, Hungary's National Concert Hall, as part of the WOMEX World Music Expo.
What are your plans for the future?
This winter, Bella will travel on a six week trip to Kunming in the south of China. On a residency organised by the British Council, Bella will learn Chinese traditional folk song, find similar themes with our British folk songs, and write new material based on what she learns. Bella will be performing the new works in Kunming's city festival on Christmas eve, and will be blogging her discoveries as she goes along. Visit her facebook page for details of how to follow her journey.
Read more about Bella Hardy
http://www.bellahardy.com
Facebook: https://www.facebook.com/Bella-Hardy-95776926721/?ref=hl
Twitter: http://www.twitter.com/bellahardy
If you would like to come along to the MG ALBA Scots Trad Music Awards in Dundee's Caird Hall call the Caird Hall box office on (01382) 434940 or buy online.